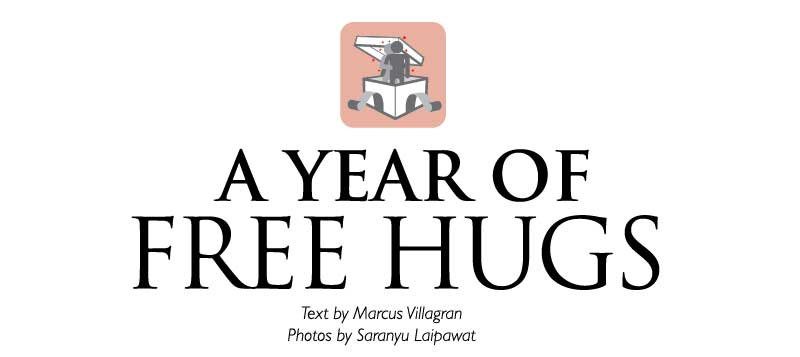 It all happens quite seamlessly. You're at Tha Pae Gate on a peaceful Saturday morning. The square is mostly empty save for a few stray tourists, some street vendors, and a flock of pigeons. Then a frail old man with a puffy gray beard casually rides along your line of sight on his three-wheel bicycle. He stops, looks at you, smiles, and opens his arms wide, revealing the design on the oversized t-shirt he's wearing, which reads "free hugs" in over a dozen different languages. You know what you're supposed to do next, but understandably you might hesitate a bit. He's a scruffy man in his early 50s, and looks like  he  might  be  homeless. But  he  has kindness  in  his  eyes, and  gives you a head nod  to  let  you  know  it's  alright. You open your arms and it happens: a hug. Stepping  back, returning to your day slightly changed, you may wonder why people don't do that sort of thing more often. It's kind of nice.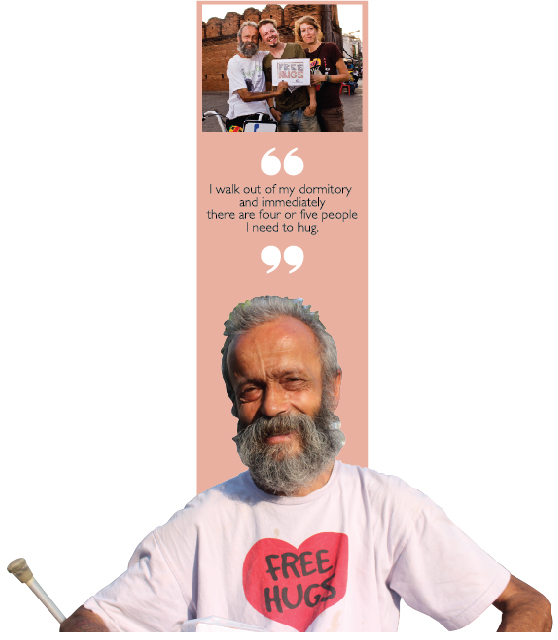 Meet Luciano
Luciano Pozzi, 54, has been giving free hugs to weary tourists and locals in Chiang Mai, Thailand  every  day since last Christmas. In just one year, he's easily become part of the Tha  Pae  Gate  experience; for many, he's considered a worthy reason to visit Chiang Mai. "You are famous in China!" shouts an excited young  tourist. I'm standing beside Luciano at his usual spot as the girl inches towards him for a hug. The two strike up a conversation about  where  she  comes  from  and  what's brought her to Chiang Mai. "Can I take a picture?" she asks. "Of course." They pose together and she continues on her way. That's how it usually goes.
Luciano's Story
Born in Medona, Italy on Valentine's Day, 1960, Luciano has lived most of his life as a recluse. From a very young age, he was cursed with an unstable home environment that's stayed with him throughout his life. "My family is a little bit destroyed," he explains. "My father died at a very early age. My sister died two years ago. My family and friends screwed me over many times, abandoned me, so I preferred to be alone."
In his mid-30s, Luciano sold his home in Italy and used the money to move to India, where he lived by himself for 17 years. "I didn't like people, I didn't want to talk to them," he says. "I decided I needed to be free for myself, so I left." About five years ago, Luciano had a bad motorcycle accident in India which left him paralysed. He went to Italy for medical care but they told him he wasn't going to be able to walk again. "They said I was going to be in a wheelchair for life," he recalls. "I would say 'I want to get up.' 'No, no, you sit here. This is your place.'"
Luciano was determined to move again, so he  went   to   Chiang  Mai   to   check  out   a Chinese  medicine  clinic  he  heard  about called   Mungkala  in  the   hopes  of  recovering. For 500  baht  a session, a couple days each week,  he  began  to  receive  acupuncture treatment. "I improved slowly and slowly. Before I walked with two sticks, after I walked with one stick. Now with the bicycle I've gotten better." Luciano  lived  primarily  in  India  during this time,  but  would  make  periodic  trips  to Chiang  Mai  for  treatment.  His  foray  into free  hugs  didn't  begin  until  last  December, a few days before Christmas, when  he stumbled upon  an  English man at  Tha  Pae  Gate  on  his  way  to Mungkala. The man was at the plaza with his wife and friends giving out free hugs  for  the  holiday  season.  He spotted Luciano alone and asked him to join them. "I  explained  the  situation  to  him," recalls Luciano. "I  told  him  I  don't  like  people, I like to be alone.
He told me, 'We'll make you forget about being alone.' He opened the door for me. It's very nice to hug people. You talk, you exchange experiences." On Christmas Eve of last year, Luciano's life took an astounding new turn: he decided to give out free hugs on his own. He remembers hugging a Thai soldier on his first day. "If my friends from Italy see the picture of me hugging police, they would think I've gone crazy!" he laughs, recalling the time back in Italy when he got into an argument with a young police officer that commanded his respect. Luciano, not the type to give respect when respect isn't due, fought the officer and was sent to jail. "In Italy, I beat the police. In Thailand, I hug the police," he jokes.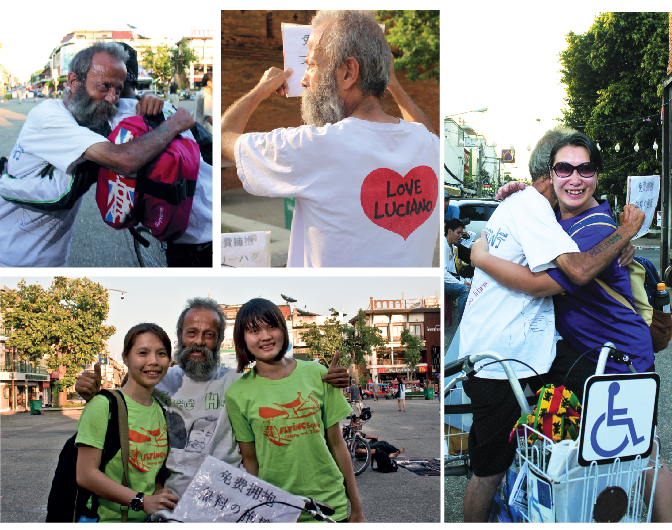 Rise to Fame
Most  people  that  actively  seek  out Luciano  know  him  from  his  Facebook page, which  he  hasn't  been  able  to  access since  his  tablet  broke  a  few  months  ago. However, thanks to his visitors, he's found that  he  doesn't  actually  need  to  anymore. In almost every picture with a smiling tourist, he  holds  up a sign with the web address to his Facebook page. Visitors frequently post pictures  they  take  with  him  on  his  page, thereby  keeping  it  updated.
He  also  keeps a poster with him that has all the best wishes  from  the  people  he's  met.  They're welcome  to  add  "free hugs"  in  their  own language to the poster if it isn't already there, although  this  doesn't  happen  often, considering  he  has "free hugs" written in over 20 different languages at this point. Oftentimes, people ask Luciano if they can buy his Free Hugs T-shirt, but he's made them only for himself. They cost about 300 baht each to make and he's considered investing some money in them and starting a business, but the idea of monetising free hugs makes him uncomfortable. He'd rather keep it, well, free.
The Perks of Free Hugs 
Luciano is a small man with a wiry body and his accident has made it difficult for him to walk and move his arms, so the physical demand of free hugs can take its toll on him. "I walk out of my dormitory and immediately there are four or five people I need to hug," he says. "In the evening time I'm tired, sure, but I enjoy it."  And indeed, while it may sound to some like a bunch of hippy dippy silliness, studies show that hugging actually has a calculable effect on the body, causing the release of  the  hormone  oxytocin which makes us  feel  warm  and  safe.
It can have  healing  components to it as well and is a powerful hormone for connecting with people. One  time, Luciano was  filmed  for a short  documentary  about  his life  by  a  Chinese  filmmaker. They spent the entire  day  on  the square capturing hugs on camera. He  swears  he  hugged  at least  200  people  that  day  from dawn to dusk. "Sometimes, 16 hours  I'm  out  here  to hug people  from  9 am to 1 a m. It starts  to  be  like  a  job, but I would  never  call  it a  job. I enjoy it too much," he says with a smile.
While  I'm  chatting   with Luciano at Tha Pae Gate, an Australian  man  joins  us. Luciano  introduces him to me. "This  man, I  met  two  weeks ago," he says. "Every day I meet  him  and  we  have  coffee  or something." Luciano  has  made  many friends  through  his  free hugs campaign, some of whom come  back  to Chiang Mai with gifts. "There's  a  Japanese guy that's massaged my hands with oil, another girl brought me cheese  and  crackers  from Italy," he recalls. While   he  used   to   get acupuncture   treatment   on  a daily  basis,  he  cannot  afford it on his own anymore. He gets about  10,000  baht  per  month from  his  pension  in  Italy. Sometimes, people will give him money  which  he  uses  for treatment when he can.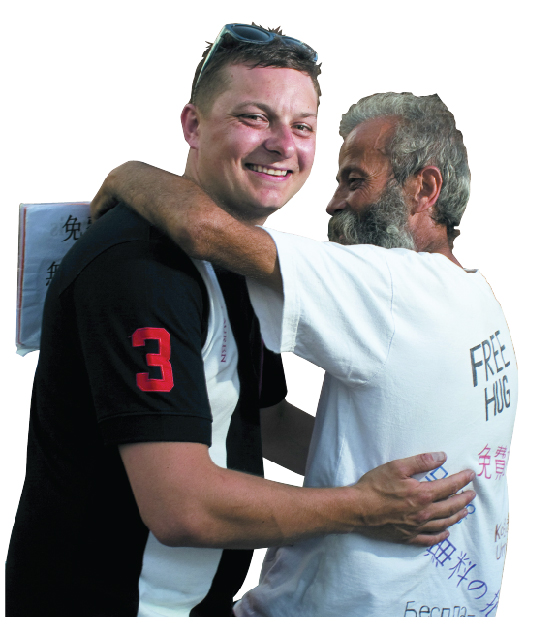 Why He Does It
I ask Luciano if people ever object to free hugs and he says yes, telling me about instance involving an older Italian woman that was against the idea…at first. "She goes, 'No, no, no I don't want that.' I told her, 'Come on, come on!' We started to hug and the next day she sent me a picture of our hug. For many days, she came back for free hugs." Since he's been doing it so long, Luciano can tell a good hug from a bad hug. "There are many different kinds," he tells me. Sometimes, he gets the awkward  huggers with little ex perience   or  the  nervous  types  that  aren't  sure  whether  hugging  an  old  man in Chiang Mai  is  okay  or  not. Their hugs are tense and rigid.
Other times, it's the complete  opposite:  the  travellers  that  are simply excited  to  be  there  swoop  in  for  a  hug  before  Luciano  can  even  put  his sign down. These are easily his favourite. "One day, I was here and a big man with a beard pointed at me, took off his jacket, took off his shirt, and under that shirt was another shirt that said 'Free Hugs.' He gave me one beautiful hug. I get hugs that I never got from my family or my son." Luciano won't be leaving Tha Pae Gate anytime soon. For the first time in his life, he has found something that truly feels right. "Every day I do free hugs," he says with a slow smile. "I have this very nice thing. It changed my life."
This Christmas, the 25th of December, Luciano will host a very special Free Hug Holiday Gathering at Tha Pae Gate. All are welcome. www.facebook.com/luciano.pozzi.940