'

Today it's not about 'get the traffic' — it's about 'get the targeted and relevant traffic.

'
Adam Audette
Your customers and potential customers are visiting Citylife's website. And in substantial numbers. Citylife's website has 600,000 unique visitors a year and over 1.5 million page views. That's a lot of eyes looking at our site every day. Many of them are interested in and looking for exactly the types of services your business provides.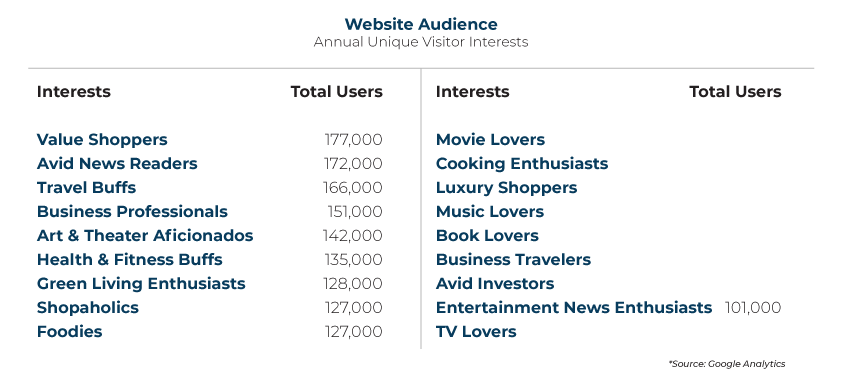 If your business is retail, our 177,000 value shoppers or 127,000 shopaholics are likely to be people you want to attract. If you have a restaurant, the 127,000 foodies will be of interest. A cooking school will find customers among our 126,000 cooking enthusiasts and so on.
Thanks to Google, we have detailed statistics on the interests of our website visitors and the pages they visit. That enables us to help target your online advertising to reach an audience that you can convert into customers.

Citylife is our lifestyle and features section of the site. There are pages to suit businesses in every niche. The site will shortly undergo a facelift and offer even more opportunities for targeted advertising placement.

The CityNews site receives some of the highest traffic levels. Pages are added daily, so banners rotate across all news pages to guarantee our customers maximum visibility.

CityNow! pages are visited by users actively looking for things to do in Chiang Mai. It offers highly targeted opportunities for B2C companies particularly those in the hospitality, tourism and activities sectors. 

Spoon&Fork specilises in food, drink and dining. Banner advertising here is ideal for restaurants, suppliers and companies in the catering sector.
We offer a range of advertising options tailored to your businesses requirements. Advertisements come in several different sizes and placements across our various websites. Your advertising banner can link to your website, Facebook page or any other url on the internet.
We also offer advertising placement on our various high traffic home pages.
One other feature of Citylife's website advertising is that it cannot be blocked by ad blockers. If your advert is on a page, it is going to get seen by all visitors.
You may also be interested in: