Northern Thailand Prepares for Thunderstorms
CityNews – The Thai Meteorological Department has issued a warning to residents in Northern Thailand as high heat and humidity is leading to some strong thunderstorms and hailstorms in the region.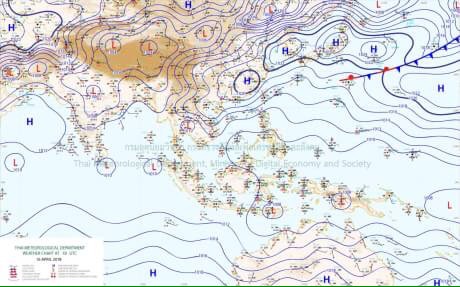 The department has released stats that show the highest temperatures experienced across Northern Thailand have reached 35 – 40 degrees Celsius. There is a 60% chance of thunderstorms in Chiang Mai, Lamphun, Lampang, Phayao, Phrae, Nan, Uttaradit, Phitsanulok, Phetchabun, Phichit, Sukhothai, Kamphaeng Phet and Tak.
There is also a risk of strong winds and hail in some areas.
Yesterday, on April 16th, Mae Rim, Rim Tai and Mae Sa were hit with a severe thunderstorm with high winds that damaged houses in the area and two cars were crushed from falling trees.
A military check point set up to provide support for citizens during Songkran Festival collapsed in the wind but so far there have been no reports of injuries. After the storm, the local authorities visited the affected households providing support.