Film Night at Alliance Française
June 1 - June 29
A free film screening hosted by Alliance Française Chiang Mai on every Friday night featuring specially selected French films.
June 1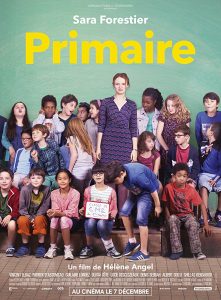 PRIMAIRE (2016)
de Hélène Cases avec Sara Forestier,
Vincent Elbaz, Patrick d'Assumçao, 105 mn, Eng. Sub.
Florence is a school teacher devoted to her students. When she encounters young Sacha, a child with problems, she will do everything she can to help him, even to the point of neglecting her own children, her own life, and of questioning her vocation. Little by little Florence realizes that learning has no age limit…
Florence est une professeure des écoles dévouée à ses élèves. Quand elle rencontre le petit Sacha, un enfant en difficulté, elle va tout faire pour le sauver, quitte à délaisser sa vie de mère, de femme et même remettre en cause sa vocation. Florence va réaliser peu à peu qu'il n'y a pas d'âge pour apprendre…
June 8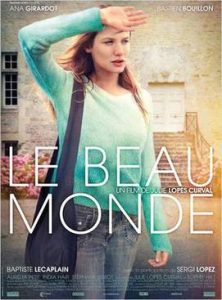 LE BEAU MONDE (2014)
de Julie Lopes-Curval avec Ana Girardot, Bastien Bouillon,
Baptiste Lecaplain, Aurélia Petit, 106 mn, Eng. Sub.
I Twenty-year-old Alice lives in Bayeux. She works with wool, creates dyes, makes clothing. She doesn't know what to do with this innate talent, until the day she meets Agnès, a rich Parisian, who helps her to be accepted into a prestigious school of applied arts. Alice leaves everything behind to go and live in Paris. There she encounters Antoine, Agnès's son. They fall in love. In Alice, Antoine finds a sincerity and naivety which allows him to escape from the bourgeois milieu that he rejects. Thanks to Antoine, Alice discovers the inner workings of a world that fascinates her. It offers her culture, and she gives herself to it entirely. At the risk of losing herself. …
Alice, 20 ans, vit à Bayeux. Elle travaille la laine, crée des teintures, confectionne des vêtements. Elle ne sait que faire de ce talent inné, jusqu'à ce qu'elle rencontre Agnès, une riche parisienne, qui l'aide à intégrer une prestigieuse école d'arts appliqués. A Paris, elle tombe amoureuse du fil d'Agnès.…
June 15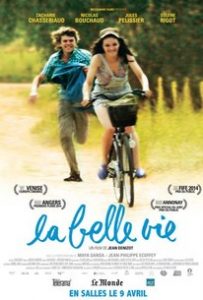 LA BELLE VIE (2012)
de Jean Denizot avec Zacharie Chasseriaud,
Solène Rigot, Nicolas Bouchaud, Jules Pelissier, 93 mn, Eng. Sub.
Sylvain and Pierre have been running from the law ever since a custody battle with their mother pushed their father Yves into hiding ten years ago. But now that they're older, the two brothers are road-weary and eager to take advantage of the perks of young adulthood. When the authorities discover their whereabouts, they are forced to move yet again and Pierre, the elder, disappears. Alone with his father on an island in the Loire River, Sylvain meets Gilda: his first girl, his first crush, and the first stop on his way to "the good life" – his own…
Un père vit dans la clandestinité avec ses deux fils, Sylvain et Pierre. Dix ans plus tôt, il les a enlevés à leur mère suite à une décision de justice. Mais les garçons grandissent et la cavale sans fin les prive de leurs rêves d'adolescent. Caché sur une île de la Loire, Sylvain, le cadet, rencontre Gilda : premiers regards, premier amour, et première étape de la belle vie, la sienne…
June 22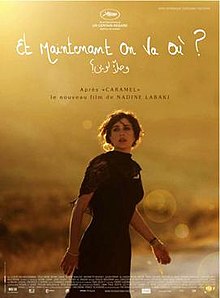 ET MAINTENANT ON VA OÙ? (2011)
de Nadine Labaki avec Claude Baz Moussawbaa,
Leyla Hakim, Nadine Labaki, Ali Haidar, Julian Farhat, 110 mn, Eng. Sub.
On the path that leads to the village cemetery, a procession of women in black brave the sun's heat, clutching to their breasts photos of their husbands, fathers, or sons. Some wear veils, others a cross, but all share the same grief, the outcome of a dire and pointless war…
Sur le chemin qui mène au cimetière du village, une procession de femmes en noir affronte la chaleur du soleil, serrant contre elles les photos de leurs époux, leurs pères ou leurs fils. Certaines portent le voile, d'autres une croix, mais toutes partagent le même deuil, conséquence d'une guerre funeste et inutile.
June 29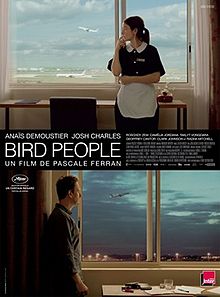 BIRD PEOPLE (2012)
de Pascale Ferran avec Anaïs Demoustier, Josh Charles
Roschdy Zem, Camélia Jordana, Hippolyte Girardot, 127 min, Eng. Sub.
In transit in an international hotel near Roissy airport on the outskirts of Paris, a computer engineer coping with a huge amount of professional and emotional pressure decides to radically change the direction of his life. A few hours later, a young hotel maid, who is at an in-between period of her life, finds her existence turned upside down by a supernatural event…
En transit dans un hôtel près de Roissy, un Américain décide de changer radicalement le cours de sa vie et de rester sur place, sans prendre l'avion qui devait le mener à un important rendez-vous. Quelques heures plus tard, une jeune femme de chambre de l'hôtel fait face à un événement surnaturel. Tous deux, soudain, voient le monde autrement…
Event Details
Location:
Alliance Française Chiang Mai