Film Night at Alliance Française
March 2 - March 30
A free film screening hosted by Alliance Française Chiang Mai on every Friday night featuring specially selected French films.
March 2
PARC (2006)
de Arnaud Des Pallières avec Jean-Marc Barr, Sergi Lopez,
Geraldine Chaplin, Jean-Pierre Kalfon, Laurent Delbecque, 110 mn, Eng. Sub.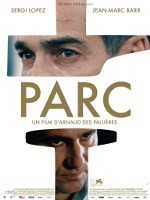 Georges Nail lives a quiet life in the suburbs. Paul Hammer is torn between the se-vere judgment he casts upon the world and his desire, despite everything, to belong to it. One day, the paths of the two men cross purely by chance…
Georges Clou mène une existence paisible en banlieue. Paul Marteau est déchiré entre la sévérité du jugement qu'il porte sur le monde et son désir malgré tout d'y ap-partenir. Un jour, par hasard, les chemins des deux hommes se croisent…
March 9
LA FRENCH (2014)
de Cédric Jimenez avec Jean Dujardin, Gilles Lellouche,
Céline Sallette, Mélanie Doutey, Benoît Magimel, 135 mn, Eng. Sub.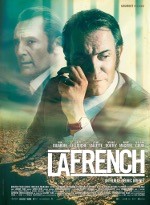 Marseille. 1975. Pierre Michel, a young magistrate who's moved south from Metz with his wife and children, is appointed a judge of organized crime. He decides to at-tack The Connection, a gangster organization that exports heroin throughout the world…
Marseille. 1975. Pierre Michel, jeune magistrat venu de Metz avec femme et en-fants, est nommé juge du grand banditisme. Il décide de s'attaquer à la French Con-nection, organisation mafieuse qui exporte l'héroïne dans le monde entier…
March 16
LA BELLE SAISON (2015)
de Catherine Corsini avec Cécile de France, Izïa Higelin,
Noémie Lvovsky, Kevin Azaïs, Sarah Suco, 105 mn, Eng. Sub.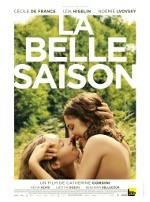 1971, Delphine is twenty-three years old. A farmer's daughter, she comes to Paris so as to be financially independent; she dreams of running her own farm, something unthinkable for a woman to do at this time. Carole is a Parisian. She's thirty-five years old and lives with Manuel. She's actively involved with the beginning of the feminist movement. When Delphine and Carole meet, their love affair turns their lives upside down…
1971. Delphine, fille de paysans, monte à Paris pour s'émanciper du carcan familial et gagner son indépendance financière. Carole est parisienne. En couple avec Ma-nuel, elle vit activement les débuts du féminisme. Lorsque Delphine et Carole se ren-contrent, leur histoire d'amour fait basculer leurs vies…
March 23
LA VIE DE CHÂTEAU (2016)
de Modi Barry, Cédric Ido avec Jacky Ido, Tatiana Rojo,
Jean-Baptiste Anoumon, Ahmet Zirek, Félicité Wouassi, 80 mn, Eng. Sub.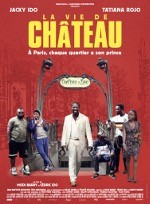 In the vibrant African neighbourhood of Château d'Eau in Paris, Charles is the smoothest of all the hustlers. His job: to fill the districts numerous hair salons with customers. But when the competition is tough and everybody's trying hard to be number one, dirty tricks are just around the corner. Fast talk, tall tales, tailored suits and secrets of the heart…
Paris, métro Château d'Eau. Charles est le chef d'un groupe de rabatteurs employés par les salons de coiffure afro du quartier. Charismatique, Charles règne sur son bout de trottoir où on le surnomme le « Prince ». Il est même sur le point de s'installer à son compte et de racheter le salon d'un barbier kurde. Mais l'ascension d'un jeune ri-val va remettre en question sa stature dans le quartier…
March 30
BARBARA (2017)
de Mathieu Almaric avec Jeanne Balibar, Mathieu Almaric
Vincent Peirani, Aurore Clément, Grégoire Colin, 97 mn, Eng. Sub.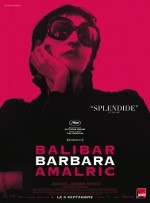 An actress will play Barbara, the French singer. The filming will soon start. The ac-tress works on her character, her voice, the songs, the scores, the gestures, knitting, scenes she has to learn, things are going okay, there's progress, development, she is even overwhelmed. The film director also works, through his encounters, through archives, music, he let's himself be submerged, overwhelmed like the actress, by the actress…
E Une actrice va jouer Barbara, le tournage va commencer bientôt. Elle travaille son personnage, la voix, les chansons, les partitions, les gestes, le tricot, les scènes à apprendre, ça va, ça avance, ça grandit, ça l'envahit même. Le réalisateur aussi tra-vaille, par ses rencontres, par les archives, la musique, il se laisse submerger, envahir comme elle, par elle…
Event Details
Location:
Alliance Française Chiang Mai