Ten Years ago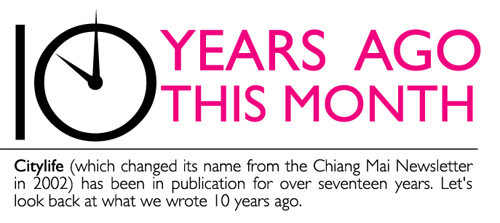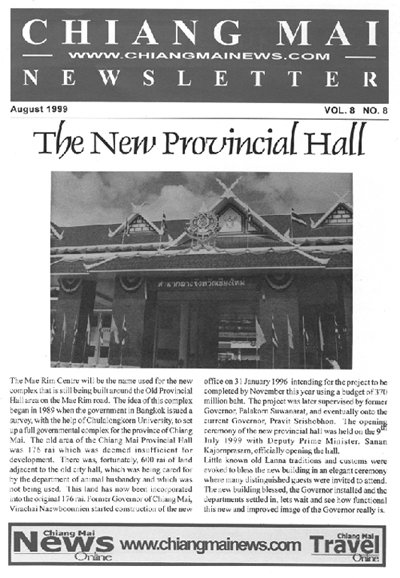 We reported on the grand opening of the new Provincial Hall and surrounding complex, slated to be called the Mae Rim Centre, originally set on 176 rai of land, but which later incorporated the adjoining land which had been under the care of the Department of Animal Husbandry, adding another 600 rai for future expansion. Governor Pravit Srisophon was the first governor to move in and was most proud of his new office and 50,000 baht coffee machine.
There was also a story on our company's, Trisila Company Limited, first foray into filming _ 'Tasty Tarantulas'. Having received an email from United Productions in the UK asking whether Thai people ate tarantulas, the editor shot back an indignant letter denying such barbaric practices, only to discover the following weekend, while chilling at Trekker Lodge, that the Lahu villagers there considered tarantulas, thrown alive to frizzle on hot coal, to be delicacies – smells and tastes like BBQ crab. The story follows the culture clashes between presenter Nigel Marvin and his professional team, trying to explain documentary style filming to an opium addled, lao khao swigging bunch of giggling people (who thought that the director's clapper was great fun to play with). It was also a moment of great disillusionment to the editor who discovered that documentary filming was not as 'natural' as previously thought. One poor Lahu man, his few remaining tooth stumps coated in dark red beetle nut stain, was forced to chew on about twenty tarantulas as the camera man shouted one "cut" after another. "My tooth hurts, I don't want to do this anymore," he moaned, to the unsympathetic film crew. Yet another Lahu hunter, was forced to coax a tarantula out of its hole and put it back in again for a re-shoot about fifteen times. He never quite understood what the entire exercise was for. Part of the series 'Giants' the documentary was aired in December 1999.


The Chiang Mai Record was kept by D.F. Macfie from 1884 to 1919 noting the names and movements of foreign residents and visitors in north of Siam.
August: Big stacks of timber on Chiengmai Old Bridge. Bridge damaged and closed to traffic, N.E.Lowe (R.Survey) arrived from Bangkok 19th and C.Collingwood left 27th.