Ride My Car: Are You an Uber User?
I popped my Uber cherry this week. It was painless and not as scary as I had anticipated. In fact, the whole thing was quite intuitive and over before I knew it. No wonder everyone does it.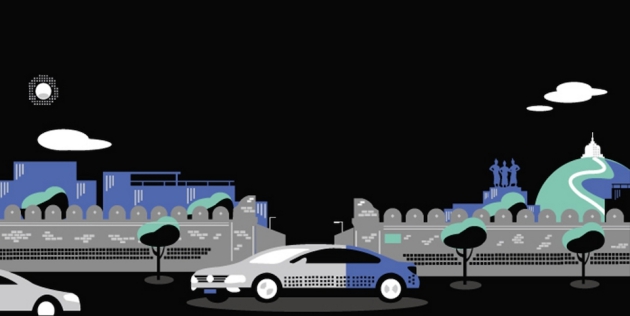 I wrote an article earlier this year on our city's transportation woes, Mess Transport, bemoaning our lack of public transportation, the unreliable and frustrating songtaew and taxi (non)system and how there appears to be no solution in sight. Since that article was published Chiang Mai has seen the arrival of Grab Taxi, a new app-based taxi service, motorcycle taxis, and now our first ride-sharing service, Uber, vastly expanding the options for those not able or wishing to drive themselves.
"There is a clear need for Uber," said Amy Kunrojpanya, Uber's Director of Policy and Communications, Asia Pacific. "We are here to complement, not to compete. There were 90,000 requests from Chiang Mai for Uber in the past year leading up to our launch, so we know that there is demand. There is always nervousness about change, but by creating alternatives we open opportunities for other alternatives. There are more people in the world and there needs to be fewer cars, so Uber offers that solution for shared rides, gives opportunities for car-owners to generate extra income and is a safe and easy alternative to more traditional transportation."
For you Uber virgins out there, this is how it works: you sign onto Uber on your smartphone and allow GPS to locate your whereabouts. Uber drivers in the vicinity will then be alerted and will then respond. You in turn will see the driver's profile including their photo and vehicle details as well as registration number. The estimated cost for the ride will also appear before you agree to the ride. A little map with a little car will show you where the driver is at and how many minutes out they are. You can put your credit card information in so that you can use Uber anytime without need for cash. The driver receives 75% of the fee and Uber charges 25% for use of its technological platform (with the driver and Uber sharing the tax costs).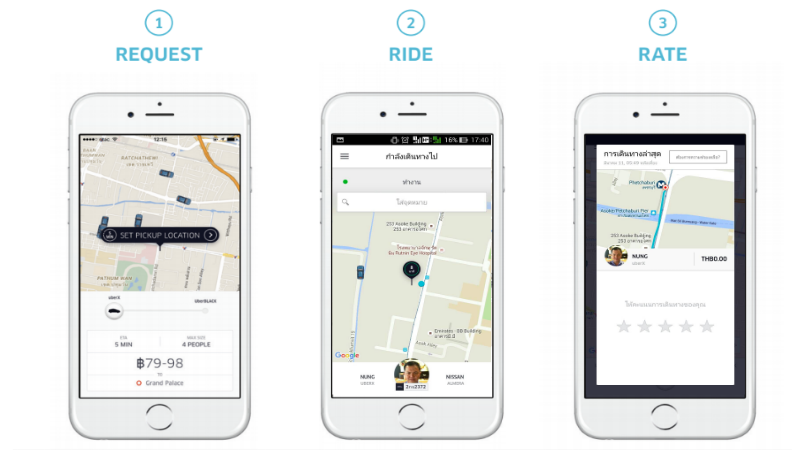 To become an Uber driver you must have to pass a basic criteria for ride sharing, including providing a fully insured car information such as photo ID, car registration, proof of tax, etc. Drivers will also be rated by users, and the Uber system tracks each ride, ensuring the safety of both passengers and drivers. There are currently 17,000 Uber drivers do not have to lay out any initial costs, needing only a vehicle and a smartphone. They can also operate on their own hours, fitting in Uber rides between or after work hours, with 40% of drivers driving less than 10 hours per week.
"There are more than 250,000 cars in Chiang Mai, and most of them are used only a short period of time per day, taking us to work and bringing us home," Kunrojpanya explained. "With a car which depreciates the moment it leaves the lot, taxes, cost of petrol and upkeep, it makes sense to share your ride."
"I don't have a car in Bangkok anymore," she continued, "before, I used to drive to work, then have to find a car park, leaving the car there all day and unused, then I would drive it home, sharing my husband's car during non-work hours. Now I use Uber, never having to wait more than ten minutes, and have saved thousands of baht in the process. Households with two cars can reduce the number to one with Uber. Research shows that 96% of the time, a car is idle. That is a lot of time."
"Many visitors to Chiang Mai find it quite frustrating negotiating with songtaews or tuk tuks, as fares are not fixed and this can lead to problems. Then there are those who enjoy going out at night and don't want to drink and drive but are afraid that they can't find a way home. Uber solves both of these problems."
"Having Uber in Chiang Mai has opened up the city to me, making it possible to do dinner further away than I would have otherwise…places like the Barefoot Cafe in Penguin Village on Canal Road, even Monsoon Tea on Charoenrat. Before one had to haggle with tuk tuk, songtaew, taxi drivers to get there and getting back could be difficult too. Now it is all done at fair metered rates that are billed directly to my credit card. I do tip a bit as I think they deserve it. Key points: I have rarely had to wait more than 5 minutes for an Uber here, they have clean cars with seatbelts that work, and the drivers are nice," said Nima Chandler, of Nancy Chandler Maps, who comes to Chiang Mai once every couple of years to conduct research for her famous maps, travelling all over the city searching for new businesses.
"It makes a huge difference for those who usually get around by motorbike or their own cars, in terms of making it possible for them to have a couple of glasses of wine without worrying about getting home," she added.
"Apart from alleviating congestion, Uber also reduces the environmental effects from emissions," continued Kunrojpanya. "Our only competition is cars. In the US there was a study done to show that between 70-80% of Millennials and those up to 45 years, no longer feel the need to own a car."
"Right now we are lobbying the government to regulate us," said Kunrojpanya. "The Motor Vehicle Act was written in 1928 and has not been amended since! There are no provisions in the law that covers ride-share. We are not illegal, but we are in an unregulated space and we need to work with the government to recognise this new technology because it is here to stay. The on-demand or entrepreneurial economy allows freedom from traditional employment structure and countries like Malaysia and Singapore already have progressive regulations to make sure that they are legally recognised. If you want to serve everyone and be everywhere then you have to be part of the solution. We are offering a solution here and hope to work with the government to recognise what we are doing."
"We are fundamentally designing the way a city moves and this is very exciting," concluded Kunrojpanya.