Public Transit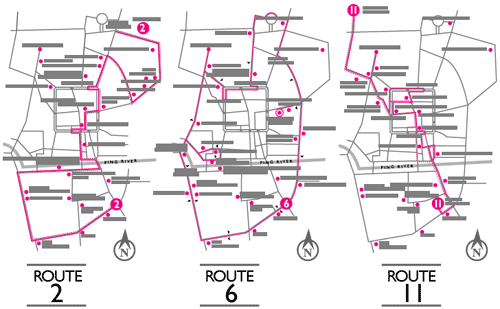 We are all complaining about the pollution and how the city of Chiang Mai needs to take action to reduce this perennial problem. Instead of complaining, why don't you take action and reduce your pollution output by taking the bus. Living in Chiang Mai one sees the occasional bus or bus stop but few people know the routes or times for these elusive vehicles. So, here are the regular bus routes around town and hopefully some of us will start using this form of transportation, reducing the impact of vehicular pollution. These air-conditioned buses cost 10 or 15 baht, depending on the route, (young children 5 baht) and cover many major routes within and leading to the outskirts of the city.
There are three main routes at the moment with plans to add two more and increase frequency within six months. The buses run every day, even during holidays, except Songkran when it is impossible to navigate the streets. Buses leave Arcade Bus Station at 6 a.m. every day and follow the routes on the maps provided. Depending on traffic, each route takes about an hour and a half to two hours from start to finish. In peak hours, 6 a.m. – 9 a.m. and 1 p.m. – 6.30 p.m., a bus will pass every 30 minutes. In off-peak hours, the rest of the time, the bus will come around once an hour. You can be picked up and dropped off anywhere on the route, all you need to do is flag them down, but please make sure that you stand in a spot where they have space to pull over.
New to Chiang Mai? The bus is a great way to get to know the city, without having to worry about getting ripped off, getting lost, taken to a tailor or silver factory. Farang are charged the same as Thais; no two tiered pricing here. The staff have been trained in basic English, always ready to practice and are very helpful. Let them know which road you want to get to and they will let you know exactly when to get off. Route 6 passes the airport and they have space for luggage – they will even help you with your bags – so come on and jump aboard.