How to cool down: Escape the summer heat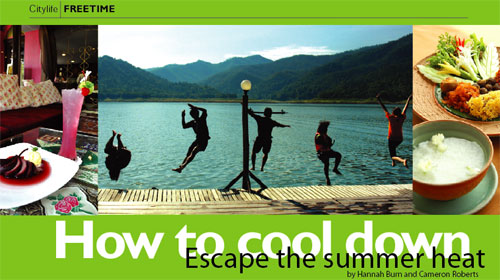 It's summertime, and the couch across from the air-conditioner looks extremely tempting. Before you park yourself there for the rest of summer, maybe we can help. In an effort to avoid spending March, April and half of May in captivity, Citylife is providing six activities to enjoy life at a reasonable temperature.
Khao Chae
Khao chae is a rice dish originally eaten by the Mon people during Songkran, celebrated for its pleasant cooling affects on the body. It was one of King Rama V's favourite dishes. The preparation for khao chae is intricate; involving jasmine-infused water and slowly steamed rice, eaten with all sorts of sweet meats. Citylife recommends trying khao chae at Saen Kham Lanna Terrace, one of the few places this Royal delicacy is served.
In Baan Nai Fun Village Project 2
Tel: 053 838990
http://www.saenkhamterrace.com
Tea Time at Vieng Joom On
The Brits swear blind that a cup of steaming tea helps one cool down when temperatures soar – but then the Brits pretty much drink tea when it's sleeting, snowing, raining or cloudy. Even if you are sceptical, Vieng Joom On has an abundance of both hot and iced tea drinks to suit your fancy. Their artisan teas are lush, aromatic and imported from all over the world. Oolong, Rooibos, Black, Herbal, Fruit and Green loose-leaf tea are available in both iced and hot varieties. Sitting in the elegant air_conditioned room, nibbling on gourmet sandwiches and dainty desserts, it is easy to forget the sweltering heat outside.
53 Charoenrat Road, right next to
the Brasserie
Tel: 053 303113
Mr. Witty and his Homemade Ice Cream
Not only does Mr. Witty whip up scrumptious homemade ice cream, he is available to cater for private parties, so you can enjoy his creamy delights right in your home. His flavours range from custard apple to After Eight mint chocolate chip, with litres priced around 350 baht. His famous ice cream is sold at the Sunday Walking Street and construction is under way for an ice cream parlour. For now, we recommend hiring him for your next event, where he will provide the most refreshing dessert.
2-10 Chang Moi Kao Road
Telephone: 089 0594389
[email protected]
Floating at Mae Ngad Dam
Mae Ngad Dam, a reservoir in Sri Lanna National Park, is a great place to frolic away a hot summer's day. You can rent a floating cottage where you can spend the night lapping up fresh-water breeze, You can float lazily in canoes or inner tubes, dipping your toes into the chilled lake. You can even dine at a floating restaurant, serving western and Thai food. Those with a bit more energy can fish, swim or bring your own jet ski for some action…all in comfortable temperatures and pretty scenery.
Sri Lanna National Park,
60 kms north of the city
Tel: 061 853191
Night Time Mini Golf
In the evenings, Chiang Mai's temperatures are usually a comfortable five degrees lower than the scorcher it is at noon. Under the shade of night, mini golf is not only fun for friends and family, but a pleasant and coolish outdoor activity. Inter Mini Golf doesn't shut its 18 holes until 10 p.m., and the perfect time to tee off is around nine. Until then, enjoy dinner, icy beers, or creamy milkshakes at their restaurant.
Located on the right, off of New Sankhampaeng Highway
Tel: 053 391093
Smoothies at Ickies
Thais recommend eating mangosteen after durian because it cools you down after the rich, hot fruit. To fully reap this soothing benefit, we suggest slurping a mangosteen smoothie at the truly brisk Ickies Bar. Their drink list is quirky and the prices are cheap. To cool your body off from head to toe, inside and out, sit at Ickies and sip a shake; you might even hanker for that long forgotten sweater.
Located behind Carrefour (free Wi-Fi).
Tel: 053 244496