The Citylife Guide to the Royal Cremation in Chiang Mai
As we enter the month of October, the whole country is preparing for the much anticipated Royal Cremation of His Royal Highness the Late King Bhumibol Adulyadej. October 13th marks exactly one year since his passing and October 26th and has been set as the day of the cremation. In Chiang Mai, there will be events and ceremonies that everyone is invited to attend, here is what we currently know – any new information will be added as received. In addition to events, we are all asked to follow the guidelines set by the government and the nation in mourning for the King's cremation period.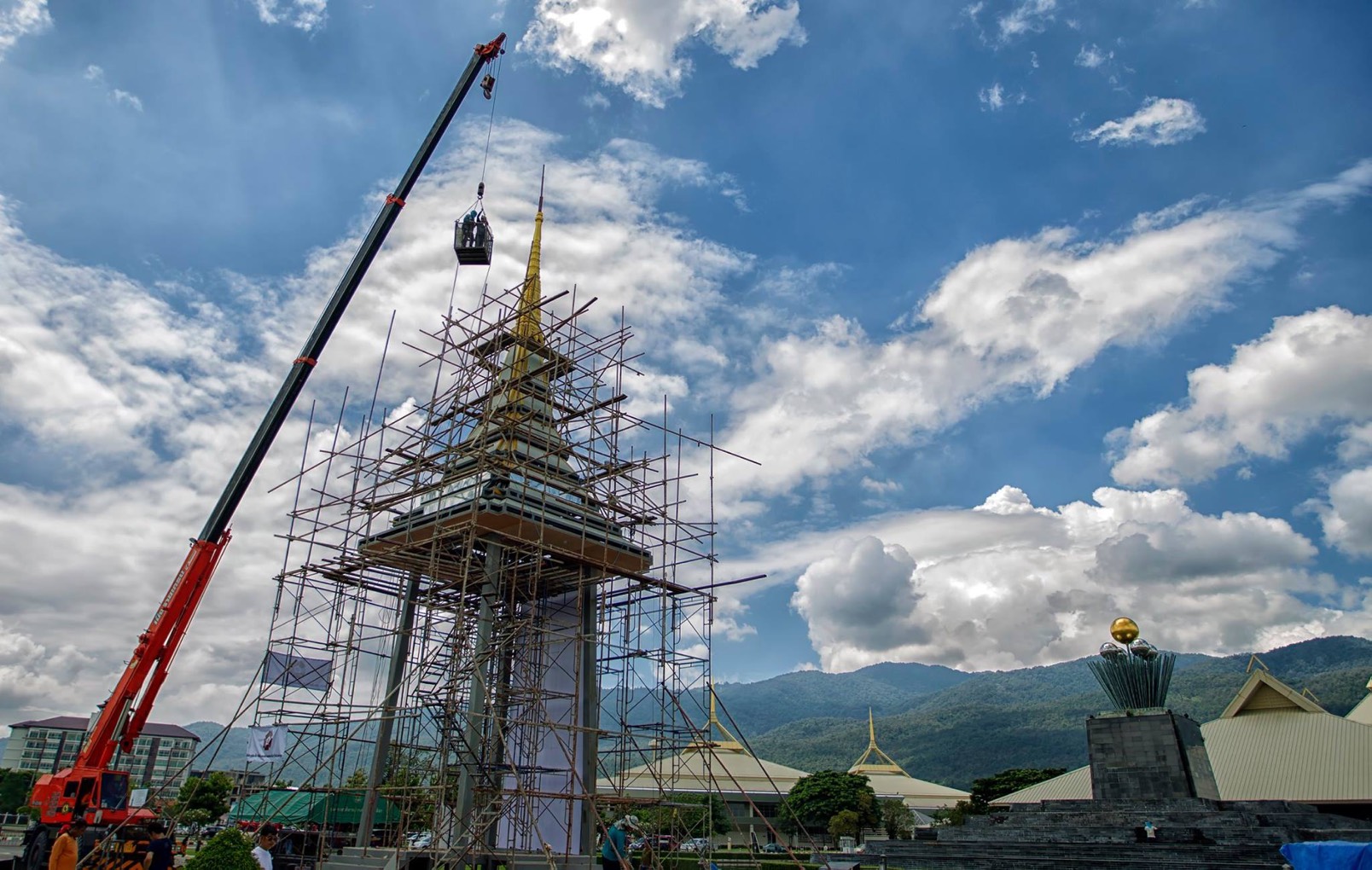 Events and Ceremonies
October 9th
From 7.30am – 7pm almost all the radio stations in Chiang Mai will be broadcasting a series of stories and tributes to the Late King Rama IX in preparation for the one year anniversary on Friday 13th.
October 12th
Chiang Mai Rajabhat University is holding an event in remembrance of His Majesty the Late King Bhumibol Adulyadej at the 90 Year Building from 5.30pm, featuring live symphony performance, choirs and lighting the candles.
October 13th
One year anniversary of the passing of King Rama IX. A memorial ceremony will be held at the International Exhibition and Convention Centre, involving offerings and prayers. Open to visitors wishing to pay respects from 7am.
October 26th
The replica funeral pyre at the International Exhibition and Convention Centre will be completed on October 10th and will be the main focus of the Royal Cremation ceremony in Chiang Mai. Chiang Mai will hold and official Daffodils for His Majesty the Late King Bhumibol Adulyadej ceremony on the day of the cremation. It is open to the public and it is expected that over 100,000 people will attend. This is the main Royal Cremation event in Chiang Mai.
Buses and red trucks will be picking up at points around the city, offering free transport to and from the venue. Pick up locations include 700 year stadium car park, Navamindarajudis Phayap School, Central Festival, Central Airport Plaza and Chiang Mai Municipality Stadium.
October 28th – 31st
The Rak Chiang Mai Network is holding a series of Loy Krathong candle making events that pay tribute to the late King Rama IX at the Lanna Folklife Museum in Chiang Mai from 9am – 4pm. The special candles will be dedicated to the King and can be released onto the water during the Loy Krathong ceremonies on 2nd – 4th November.
Entertainment and Alcohol
So far information is scattered, but from official statements we can deduce that:
October 21st – 25th
Entertainment venues will most likely scale down their music and entertainment to a more appropriate level nationwide. Until the end of October, weddings and other private events that may also be serving alcohol should be held in private venues behind closed doors, such as homes and hotels.
October 26th
The Prime Minister announced that on the day of the cremation, everybody should behave appropriately. This includes no exciting events, and live music in public areas should be restrained.
Tesco Lotus have announced that they will close all stores from 2pm on the Royal Cremation day, giving their 63,000 staff the chance to participate in local ceremonies across the country. All 119 Major Cineplex cinemas will also be closed for the day. It is expected that other large businesses will follow similar protocols.
7-Eleven stores across the country will close from 2.30pm to midnight. Central department stores, The Mall department stores and Robinson department stores will also close at 3pm.
Banks are expected to close for the day, including branches in malls.
A few major tourist attractions in Thailand (Dream World, Safari World, Full Moon Parties, The National Muay Thai Fights, Buffalo Racing) will be closed on October 26th, expect closures of similar attractions in Chiang Mai.
Local bar owners have told Citylife that despite no official ban on alcohol sales during the Royal Cremation period, they expect to tone down or close their bars for the duration.
Advertising and Media
During the month of October, all online media should be desaturated to at least 40% of the normal colour, set to grayscale, or have a black ribbon displayed clearly. This is expected to remain in place until the end of the month.
Thai TV stations have gone black and white from October 1st till the end of the month and entertainment shows must reduce or be removed from broadcast until October 29th. From October 21st to 24th there will be only programmes about the Late King Rama IX and from October 25th to 29th only the funeral and Royal Cremation ceremony may be shown.
October 13th
No advertising or event promotion should take place, unless it is promoting an event that is related to the Royal Cremation or one year anniversary of the passing of King Rama IX.
October 25th – 27th
During the duration of the Royal Cremation, all advertising must be stopped and no promotion of events should take place apart from one related to the cremation itself.
October 30th
Advertisements and events promotions can return to normal, and the grayscale or desaturation of websites may be removed.
Others
All Thai governmental offices and institutions must fly the national flag at half-mast from October 15th to 27th.
October 27th marks the end of the yearlong mourning period, after which government officers, teachers and other public sector workers may return to normal uniforms.
October 13th has been declared a new public holiday marking the passing of the late King Rama IX. It will take place every year.
October 26th is a public holiday for this year only, so people can attend funeral events.
For those visiting Bangkok
The Royal Cremation ceremony in Bangkok will be held at Sanam Luang from October 25th to October 29th. The official cremation will take place on October 26th.
The BTS skytrain and MRT subway will be free on October 26th. From October 25th to 27th, BTS extensions from On Nut to Samrong and Wongwian Yai to Bang Wa will also be free.
The Airport Rail Link and Purple Line will be free on October 25th – 26th.
There will be restrictions on boat movement on the Chao Phraya River during the Royal Cremation ceremony days.
Flying of drones over Bangkok will be banned from October 25th 29th.