Food Trails: Ragù Rustico Italiano
Ragù Rustico Italiano
สัมผัสเสน่ห์ทางรสชาติที่ลงตัวของวัตถุดิบที่คัดสรรมาอย่างดีจากผู้ผลิตชั้นนำและกรรมวิธีทำอันเป็นเอกลักษณ์ในแบบเฉพาะของ Ragù Rustico Italiano ร้านอาหารอิตาเลี่ยนโฮเมดที่ตอบโจทย์ทั้งผู้ชื่นชอบอาหารอิตาเลี่ยน และคนรักสุขภาพ ได้มีโอกาสชวนกันมาลิ้มลองรสชาติแบบอิตาเลี่ยนแท้ๆ ในบรรยากาศสวยๆของห้างสรรพสินค้าสไตล์รีสอร์ท ใกล้ตัวเมือง
ต้อนรับลูกค้าทุกท่านด้วยเมนูขนมปังกระเทียมหนึ่งชามโต แล้วมาประเดิมจานแรกไปกับเมนูเรียกน้ำย่อยอย่างแอนตี้พาสโต้ที่รวบรวมเนื้อแฮมและชีสชั้นดีเหมาะสำหรับทานคู่กับไวน์ ถัดมาเป็นเมนูสลัดผัดสดจากโครงการหลวงชามโตอย่างเมดิเตอร์เรเนียน สลัดและอิตาเลี่ยน ช็อพ สลัด ต่อด้วยพิซซ่าแป้งแผ่นบางกรอบที่เหมาะกับคนรักสุขภาพอย่างแฟลตเบรด หน้าผักโขมกับไส้กรอกโฮมเมด และแฟลตเบรด หน้าซอสเซจ รากู กับพริกหยวก หรือหากใครชื่นชอบเนื้อปลานุ่มหอมกรุ่น ก็ต้องห้ามพลาดกับเมนูปลากะพงอบซอสกระเทียม และอย่าลืมเมนูซิกเนเจอร์ของร้าน ไส้กรอกอิตาเลี่ยนและมันฝรั่งซึ่งทางร้านทำไส้กรอกโฮมเมดขึ้นเองทำให้มีรสชาติเข้มข้นกลมกล่อมและเนื้อแน่นเป็นพิเศษไม่เหมือนใคร ต่อท้ายด้วยด้วยฟูซิลลีเนื้อปู ซอสอัลเฟรโต้ที่ใช้เนื้อปูผัดให้เข้ากับเส้นพาสต้าฟูซิลลีอิตาเลี่ยนทำให้ได้รสชาติที่เป็นเอกลักษณ์ จากนั้นเติมเต็มความสดชื่นด้วยอิตาเลี่ยนโซดา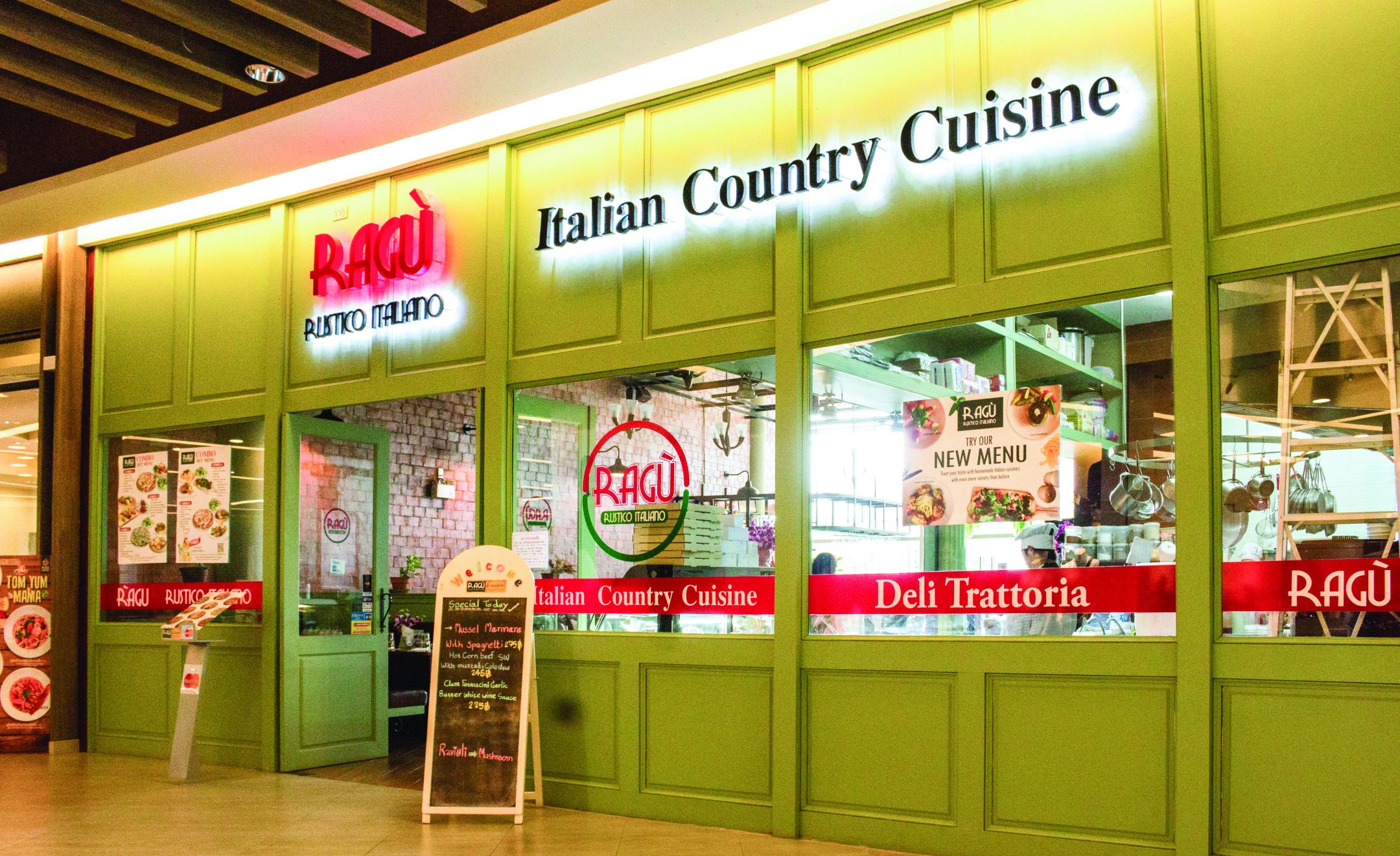 Have an appetite? Love good wholesome home-styled Italian comfort food? Stop by Ragu for a hearty and tasty meal. Start off with some garlic bread and an antipasto selection of prime Italian meats and cheeses, perfect pairing for the solid selection of wines on offer. Then dig into the big bowl of Mediterranean salad filled with baby lettuce, tomatoes, roasted red peppers, olives, artichoke hearts and feta cheese. The famous pizzas include the warm spinach and chicken bacon sausage or sausage Ragù and roasted peppers as choices or for a healthier option try the garlic baked snapper, if you are fish lover. Another house favourite is their sausage and potato signature dish made with home made sausages. Finishing with a crab alfredo fusilli (if you can manage!) and wash it all down with Italian sodas. Unbuckle and breathe out a long sigh of satisfaction.
Ragù Rustico Italiano
ชั้น 1 อาคาร B พรอมเมนาดา รีสอร์ทมอลล์ เชียงใหม่
วันจันทร์-วันศุกร์ 11.00-21.00 น. วันเสาร์-วันอาทิตย์ และวันหยุดนักขัตฤกษ์ 10.00-21.00 น.
โทร. 053-142-665
Facebook: RaguPromenada
Ragù Rustico Italiano
1st Floor Building B , Promenada Resort Mall Chiang Mai
Monday – Friday open 11am-9pm, Saturday – Sunday and Holiday open 10am-9pm
Tel. 053 142 665
Facebook: RaguPromenada