Eat Well: Grilled Organic Watermelon Tofufoiegras salad by The Redbox Restaurant
Grilled Organic Watermelon Tofufoiegras salad
by The Redbox Restaurant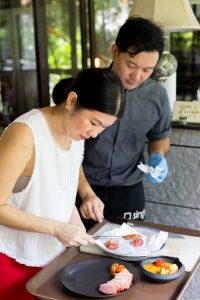 Chef Chinadanai 'Dan' Boonchaliew and his life partner Primmada 'Proud' Kamkulsuntorn moved back to Thailand from Brunei, where they spent several years working on a food delivery company offering up what they called 'Red Moments' – or fine dining versions of Thai and South East Asian food in glass jars, and lunchboxes.
After returning to their roots in Chiang Mai, they have now re-launched their Redbox company, tuned to Thai palates and wallets. These new 'red moments' put an emphasis on ready, edible and distinctive food-to-go.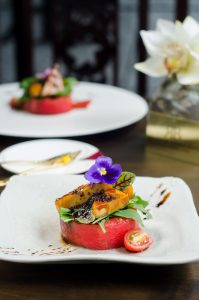 Their restaurant has some very interesting dishes we have never heard of before and this month we were wowed by the grilled organic watermelon tofu foie gras salad which freezes one of the most delicious watermelons found in Isaan until time to serve when it is lightly torched for flavour. The salad is actually foie gras free (unless you order it as an indulgent extra) however the tofu is marinated and served foie gras style – with a taste and texture which is surprisingly uncanny. This refreshing and healthy dish is garnished with rocket salad, a splash of balsamic and some salsa.
The Redbox Restaurant
No. 6, Haew Kaew Road, T. Suthep
Open 11.30 am – 22.00 pm. (Close every Tuesdays)
Tel. 092 979 4542
Facebook: redboxdining