Clients' Spot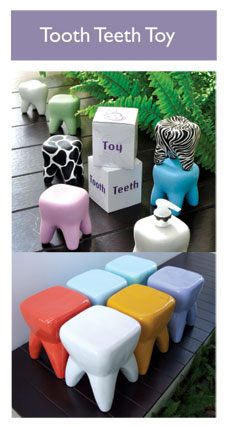 Tooth Teeth Toy products are totally novel and unique to the world of design, interior decoration and dentistry. Created by a dentist with an artistic passion, the products are all correspondingly themed around teeth. Tooth Teeth Toy produce stools in the shape of individual molar teeth. Stools come made from fibre glass in a range of matte or gloss finishes, in colours such as black, white, yellow and purple, they are also available in metallic gold, silver and bronze, and come in different sizes. For a more organic look the cardboard stool is created from a stack of glued cardboard carved into the shape of a tooth, which is surprising hard wearing due to the dense cardboard structure. These toothy seats would be apt in a dental surgery or even in a trendy cafe. For something a little smaller, perfect to use as a paper weight or ornament, is the Tooth Teeth Toy figure, made from ceramic or resin, these would make a great gift for a dentistry graduate or dentist or as a funky new design piece, priced at only 150 baht. For those who like something more on the wild side, all products can be ordered painted with animal print patterns, such as cow, giraffe or zebra. Another practical design from the company is the molar soap dispenser, a bargain at only 250 baht. All of these products have one thing in common; the beautiful chunky but smooth shape based on the form of a tooth. They are something different which catches the eye and are a real conversation starter.
Tooth Teeth Toy
053 329 432, 083 9409929
[email protected]
Facebook: toothteethtoy
www.toothteethtoy.tarad.com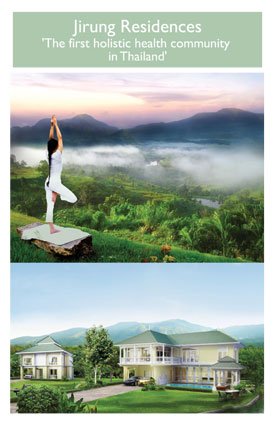 Jirung Residences is a housing project which offers great comfort for living in the best location according to Feng Shui theory (Chinese astrology). It is surrounded by fresh air and quality natural resources. The location of Jirung Residences is well known as the best natural therapy for health and mind. All houses are located on small hills with different contour levels. The design consists of a mix between the Lanna style and inspiration from the colonial designs of Daraphirom Palace Museum (King Rama V's era), blending the luxurious and open air design with the environment. Jirung's strategic location promotes the sensation of being at peace with an increased awareness of the beauty of mother nature – distant mountains, a flowing stream, the ever-changing interplay of tropical light and shade, and the vital force emanating from every plant and creature. Combined with caring but unobtrusive service, there is perhaps no better place to both heal and relax. As one visiting therapist observed and stated: "This land is blessed with a healing energy".
Jirung Residences is waiting for you to come and feel the eternal happiness at Mae Rim.
Jirung Residences
Good 4 U Co., Ltd.
Bangkok Office Tel: 02 645 0300
Chiang Mai Office Tel: 053 299 131, 086 189 0123
www.jirunggroup.com/residences