City Sport



The Chiang Mai expat football team joined the ranks of the city's best football teams in February, playing in a 16 team knockout competition. The Farangutans were drawn with Suthep FC, PRC FC and Praew FC. In a hard fought first match the farang's lost 1-0 to Suthep, the goal coming in the second half after injuries were sustained and players were tired, all in all though, the older men made a good account of themselves. They lost their second game 2-1 to PRC, in another game where few chances fell to the foreigners and many chances were squandered by the Thais. In the last game, a fiery encounter, Praew needed to win to qualify, which they did in style. The first half saw two great goals by Praew early on, only for Arek to get one back for the foreigners. The Farangutans held in there in the second half and put up with countless amateur dramatics by Praew. Arek scored again, only for Praew to score another three goals making it 5-2.


Cricket Sixes
The iconic 22nd Chiang Mai International Cricket Sixes is to be held this year again at the Gymkhana Club from March 29th – April 4th. Close to forty teams from all over the globe, numbering over three hundred players ranging from test cricketers to regular amateurs will descend upon Chiang Mai for one week of fabulous cricket, wild parties and great fun. Every day the six aside games begin at 8.45 a.m. and continue until around 5 p.m. There is a spectator's stand, food stalls and a very well stocked bar. Teams come from Australia, New Zealand, Dubai, England, China, Hong Kong and all corners of the globe in this competition which is fast paced and action packed. Players and fans are very friendly and if you don't understand the game there is always someone on hand to explain it to you, so pop along for a week of great sport and lasting friendship. Local boys, who have been trained in the Chiang Mai junior programme will also be competing against visiting cricketers and would love to have some local support. For more information check out www.chiangmaisixes.com.
Local Cricket
An exciting match at the Prem Centre, mid-February saw victory go to Citylife with one ball to spare. Batting first the Colts team compiled a respectable 238 for the loss of six wickets with Jigme Singye dominating the scene with 108 n.o., supported by fellow Bhutanian Thinly Norbu with a brisk 51. For Citylife, Martin Papworth bowled steadily to finish with 2/25 and Asif Khashoo 2/47.
In reply, George Hamilton steadied with a sparkling 59 n.o. and a steady 34 from Dominic Williams.
The game went right to the wire and, with two balls to spare George Hamilton pushed a single to midwicket to secure a win for Citylife.

Every Sunday there is a pick-up softball game at 2.30 played at the entrance to Chiang Mai Land. Come and join.


The Royal League February Little Man Competition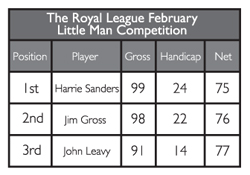 Golf schools at Prem Golf Academy
Junior 5-Day Camps
March 16-20
For more information contact:
Mike 'Spike' Collier
[email protected], www.premcenter.org
Tel: 053 301500 (ext. 5415)