Want to booze with the cool kids? You've got options. From laidback expat standbys to artsy hipster hubs, one thing is for sure: in Chiang Mai, you don't have to drink alone.
If you're into beer, beats and bikes, CMBC is the old city's latest hotspot. A small place, with a patio out front and a funky blend of exposed brick, low lighting and eclectic art inside, CMBC has created a modern, intimate atmosphere to drink and chat while the DJ of the night spins funky beats at the bar. Not only is CMBC a hangout for Chiang Mai bicyclers (and of course, anyone else looking for a cold beer), but it is also a DJ school and the newest place for cool Thais and farang in the know to gather. Experienced or budding disc jockeys are welcome to stop by in the evenings to get one-on-one practice honing their musical mixing skills, while onlookers can sit back, relax and enjoy the jams. Every night there is a beer buffet featuring free flow Chang from 8 p.m. _ midnight. CMBC also serves coffee and features a small snack menu with a few Thai dishes, chicken nuggets, fries and other finger foods at affordable prices. So cycle on down and let the spinning begin!
Open daily, 6 p.m. – late
199/5 Moon Muang Road (just next to Soi 8)
Facebook: Cafe CMBC
083 2004 8481
Newly relocated from its former spot near Wat Phra Singh, this funky little watering hole is now just east of the old city, next door to Fabrique. Here is where the hip, young, tattooed crowd gathers to enjoy live music, art and booze. The retro bar is small and intimate but spacious enough for an impromptu dance party. Decorated with a quirky collection of vintage records, transistor radios, and a variety of old clocks, it feels more like the basement hangout of a local artist than a bar. There's live music every weekend night _ Friday offers blues, jazz and open mic jamming, Saturday features live reggae, ska and dub, and Sunday mellows out with acoustic pop rock. The upstairs gallery is no more, but the bar owners have plans to create a unique outdoor gallery within the next few months.
Open daily, 6 p.m. – 1 a.m.
218/4 Wichayanon Road
Facebook: Gossip Gallery & Bar
086 191 1207

Photo by James Robert Fuller
One of Chiang Mai's long-running bastions for social expats, Small House Kafe made everyone sad when it shut its doors late last year and moved out of its former location off Huay Kaew. Thankfully, the beloved bar has now reopened in a new and more spacious venue hidden on a quiet soi off Huay Kaew Road, across from Kad Suan Kaew. Now Small House features a tree-lined outdoor patio, perfect for large groups sucking down bottles of Sangsom and beer. The pool table has returned, and the friendly owners often host special events and parties at the bar, as well as hip-hop nights every Friday. The "Kafe" in the name is a bit misleading, as the only food you'll find served here is limes and cigarettes, but you are welcome to BYOF _ there's a grill onsite for BBQ aficionados _ or order Thai delivery from the nearby Lemon Tree restaurant. Small House is a place where regulars congregate nightly and new faces are always welcome, kind of like the Chiang Mai expat version of Cheers, where everybody knows your name (or at least is willing to learn it).
Open daily, 5 p.m. – midnight (closed Sundays and Mondays)
18/1 Sermsuk Road
www.smallhousekafe.com
083 176 3013
From Thai fusion to Italian to Tex Mex, Chiang Mai's restaurant scene is buzzing and busting with fabulous flavours from all over the world. Whatever your pleasure, you're guaranteed to find something satisfying from this handpicked list of newbies.
Truly great Tex Mex is hard to find in Chiang Mai. There are a lot of restaurants that almost get it right, but only a few that nail it. The Mexican Grill, recently relocated from Pai to a spot on Canal Road just south of the Suthep intersection, serves up some of the best Tex Mex in Thailand. Here, you can nosh on fabulous tortilla soup, falling-off-the-bone baby back ribs, Mexican pizza and some of the most tender chicken fajitas you'll find anywhere. The frozen margaritas alone are worth the trip: just the right mixture of icy cold, sweet and sour. For the month of October, Texas-born owner Guy is offering a number of special discounts for Citylife readers, including frozen margaritas for 120 baht, baby back ribs at 375 for a full rack and 250 for a half (along with two sides of your choice), and sizzlin' fajitas for 250 baht. And for all you American sports fans, Mexican Grill will be airing the MLB playoffs throughout the month.
Open daily, 11 a.m. – 11 p.m.
93/4 Moo 10, Irrigation Canal Road
Facebook: The Mexican Grill
053 020 161
Searching for the perfect place to nosh on a freshly baked prosciutto pie? Hankering for a juicy Hawaiian pineapple pizza with Canadian bacon? Check out this awesome new eatery, located in the up-and-coming neighbourhood of Chang Phuak. Whether you're in the mood for a classic standby or something unique like the "flammekeuche" (a pizza with cream sauce, mozzarella, bacon and onion that was developed by the French owner and chef, Benoit), Pizza 99 presents genuinely fabulous pizzas that are guaranteed to satisfy. They also have booze! Grab a friend and spend the evening chilling out at the art deco style bar with a mai tai or a mojito, delightfully priced at just under 70 baht a pop. And for the true pizza-lovers? Come on down to one of their Friday pizza buffet parties for four hours of all-you-can-eat pizza and music plus a welcome cocktail at only 200 baht total per person! Check Facebook for details.
Open daily, 4:30 p.m. – 1 a.m.
29/51 Moo 2, Chang Phuak
Facebook: Pizza 99
085 920 4077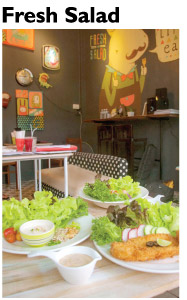 As we've mentioned before, the new JJ Market is bursting with fun new shops and eateries worth checking out. One of our new favourites is Fresh Salad, a quirky little enclave across from Rimping that makes good on its name, with some of the freshest and most delicious salads around. Look for the giant moustachioed rabbit painted on the wall inside the open-air dining room, alongside a collection of other rabbit-related artwork, and a real bicycle mounted on the wall. Fresh Salad is the brainchild of a trio of siblings plus one sister-in-law, a labour of love inspired by the eldest brother's recent weight loss, for which he credits his wife (said sister-in-law) who helped him drop 20 kilos and lower his cholesterol thanks to her healthy cooking. At Fresh Salad, healthy does not translate to tasteless, thanks to a beautiful spread of local hydroponic veggies, homemade salad dressings, and a variety of proteins, from roasted pork to fried fish. The salads come in two sizes: Bug and Bus (a vehicular reference to big and small), for a highly reasonable 55 and 85 baht, respectively.
Open daily, 11 a.m. – 7 p.m.
JJ Market, 45 Atsadathom Road
www.facebook.com/freshsaladcm
081 885 6886
Brand new and already wildly popular with the CMU student crowd at Lang Mor, this cheap and cutesy little shop serves up a variety of desserts that are hard to find elsewhere. Namely, the elusive frozen yoghurt! Yes folks, here at the Volcano they have the real, slightly sour-tasting (that means healthy!) fro-yo that has taken the west by storm over the past five years or so, which until now was nearly impossible to find in Chiang Mai (believe me, I tried). Here, you can get it Slurpie style and sprinkled with toppings like fruit, cereal and chocolate sauce. The Volcano also serves up their famous "toast" desserts, of which there are three different kinds – Volcano toast, French toast, and the massive Japanese toast (which is more like a loaf) – topped with pretty much whatever your heart desires, from mangos to caramel to green tea flavoured condensed milk. Rounding out the menu is a variety of beverages and even chocolate fondue, which comes served in a cute white tower with its own tiny flame. Sweetness craving: satisfied.
Open daily, 11 a.m. – 11 p.m.
P.P. Plaza, behind True Coffee on Suthep Road
www.facebook.com/theVOLCANOtoast
This adorable and petite new bar, burger joint and restaurant near Suan Dok Gate is eclectically decorated with a mix of Camden Market antiques and Chiang Mai backstreet finds. Almost too cool for school, with an indie slash Brit-pop meets industrial chic vibe, complete with an in-house Jack Russell terrier, Mixology gets away with it because the super friendly staff and owners have dropped the pretension which often goes along with this sort of venue. It's simply a fun spot to drop in for a quick breakfast, an easy lunch or an evening out with friends. The menu is no less intriguing: jacket potatoes stuffed with everything from the traditional (sour cream) to the far east (nam phrik ong), Chiang Mai curry with crispy rice balls, pesto grilled vegetables, the Mixology burger of sticky rice buns and sai-ua, crying tiger strip loin or fish and chips. Beers, wines, and a hangover-ready list of cocktails include the tom yum inspired "prik me up" – cute. Prices are reasonable with cocktails at around 160 a glass, appetisers between 60-120 and mains ranging between 120 to 350 baht. (Cyclers get 10% off!)
Arak Road (inner moat, just past Suan Dok Gate and on the left before reaching Rachamankha Road)
Facebook: Mixology Chiang Mai Burger
083 0706190
This sophisticated little gem, part of the Kham Mon Lanna Resort, offers a large menu of fabulous fusion and traditional Lanna dishes with a modern twist, alongside a wide selection of international wines and a full bar. From the mussels tom yum appetiser to exquisite curries to luscious lamb with fresh, tangy mint herb sauce to the fabulous wagyu beef, Kham Mon gets it right. There are also plenty of options for vegetarians, such as the lovely tofu with shitake mushrooms. But please, save room for dessert! From Chef Supawat's signature creation of mangos and sticky rice enveloped in a crispy spring roll and paired with a lusciously sweet coconut dipping sauce to the scrumptious panna cotta, all we can say is prepare to be elated. Happy Hours are 6 – 10 p.m. daily, and on 12th October, Kham Mon invites you to join their "Living and Music Party" featuring tasty treats and free flow beer and wine from 6:30 – 10 p.m. at just 500 baht a head.
Open daily, 6.30 – 11.00 pm.
4 Moo 6 T. Chaishathan, A. Saraphee
www.khammonlannaresort.com
053 115 854