Winners of the 13th Junior Dublin Literary Awards Announced
Press Release from NJ Digital
CityNews – Triam Udom Suksa School Student Wins the 13th Junior Dublin Literary Awards for Thailand.
The 13th Junior Dublin Literary Awards for Thailand presentation ceremony was held on February 9 at the Rembrandt Hotel, Bangkok. Organised under the theme 'Moving Forward', this year's competition attracted almost 10,000 entries from students in all regions of the country.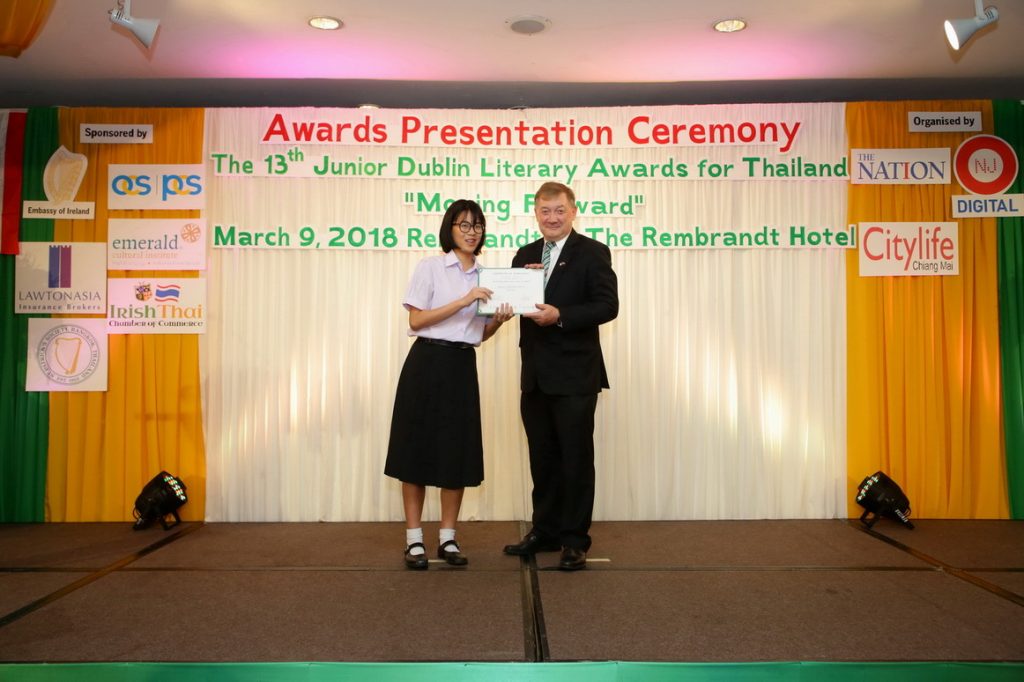 Ramita Hongharnnarong of Triam Udom Suksa School won the overall national award, receiving 10,000 baht in cash, a certificate and the chance to participate in the International Dublin Literary Awards 2018 in Dublin, Ireland, along with one parent.
"It feels kind of [special] to me because I'm really attached to my work and I didn't think anyone would like it. I didn't write to please because if I did try to write to please, it would be different—and I'm glad that they (the judges) like me for me because it's me in that work," said Ramita.
The Annual Junior Dublin Literary Awards for Thailand is jointly organised by The Nation and NJ Digital, with support from the Embassy of Ireland and strategic partners including the OCS Group, the Emerald Cultural Institute, Irish-Thai Chamber of Commerce, LawtonAsia Insurance Brokers, and Saint Patrick's Society Bangkok Thailand.
The competition is held in all four regions of the country, its purpose being to find representatives to compete in the National Round. The main objectives of the annual competition are to enhance the creative English writing skills of Thai students nationwide and to encourage innovative thinking among members of the younger generation.
This year's keynote speaker was Roseanna Marshman, one of the hosts from 'Hello English!' and a well-known English instructor. She shared valuable experiences with the young authors and offered some useful tips for all creative writers, inspiring the young students present to continue pursuing their passion for English.
"After reading the essays, I was actually shocked about how high the standard was. And I really didn't expect Thai people to be able to write that. I myself could not write that. And most English people could not write this either. And I'm very very impressed. The level of English among Thai students is incredible. So I hope that the rest of Thailand can see these students as great examples—and that the rest of the country will also be as interested in English as these students," said Roseanna.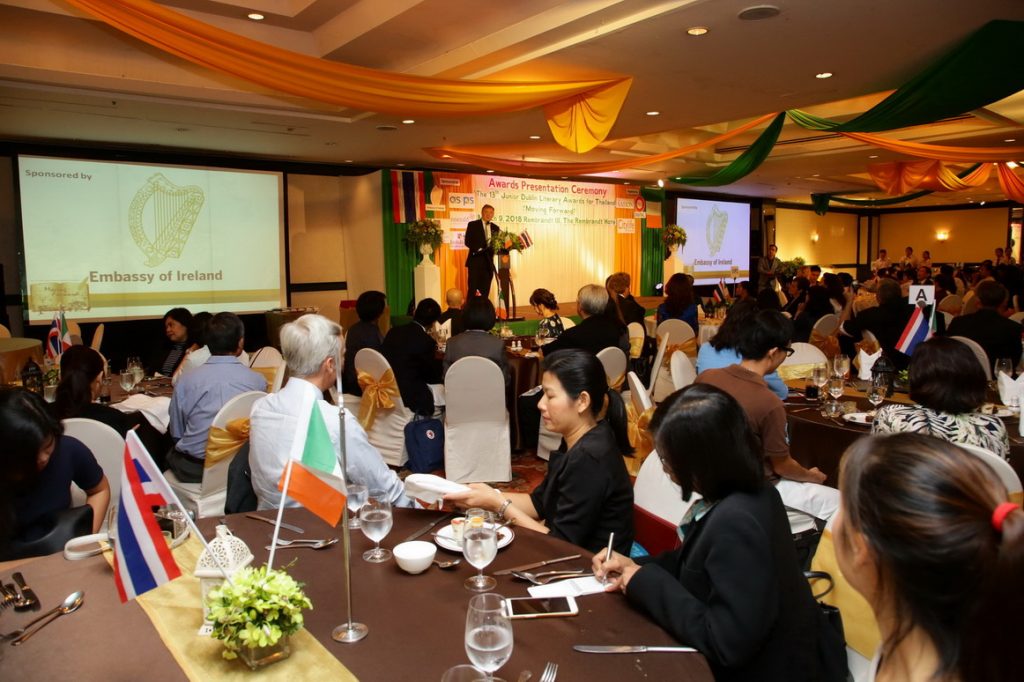 The judging committee for the 13th Junior Dublin Literary Awards for Thailand included HE Brendan Rogers, the Irish Ambassador to Thailand; Ms. Philomena Murnaghan, former Irish Ambassador to Lithuania and Argentina; Dr. Sirikorn Maneerin, former Deputy Minister of Education; Asst. Prof. Dr. Suchada Nimmanmitr, Former President of the English Teachers Association and Director of the English Language Institute, Rangsit University; Prof. Atchara Pradit, Director of the Bachelor of Arts Program in Literature for Children of the Department of Library and Information Science, Faculty of Humanities, Srinakharinwirot University; Mr. Pana Janviroj, President of Nation News Network Co., Ltd.; and Ms.Pimpimol Kongkriengkrai, Editor of NJ Digital.