Peaceful Protest Against Paving Over Canal for Superhighway Expansion
CityNews – A protest was held today at the Jet Yod junction in reaction to the proposed paving over of the Rin Kham Canal, with a message being delivered to the Chiang Mai Highway District 2 Office asking for a redesigning of the superhighway expansion to protect the canal.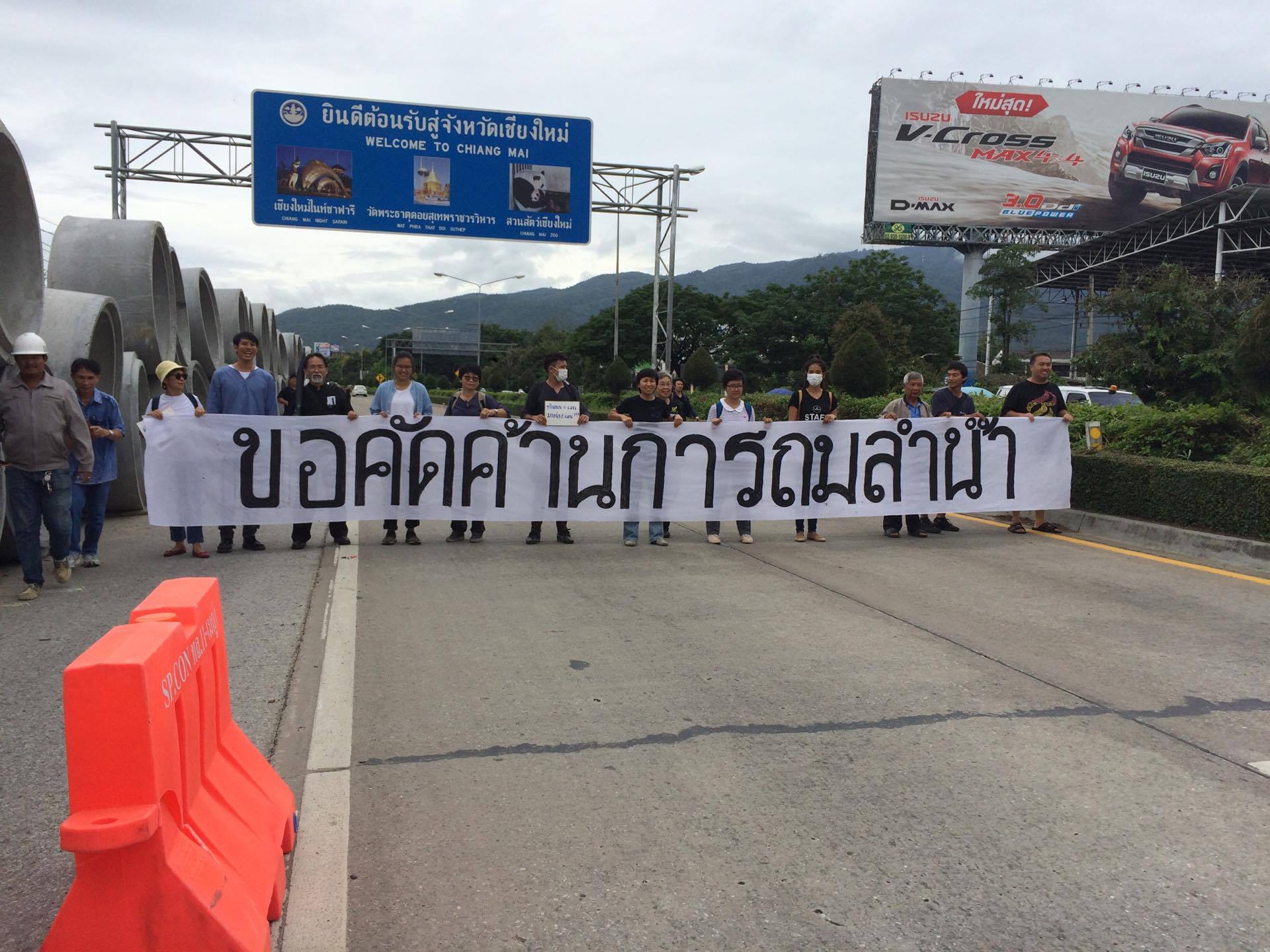 Pharadon Phonamnuai, an environmental activist accompanied with Dr Wasan Jompakdee, the President of Committee for Protection of Mae Ping and Environment and citizens of Chiang Mai, organised the peaceful protest with a signs and other members of the public next to the construction site located on the Jet Yod junction.
"We do not disagree with road expansion as it is well-known that this area has been having issues with traffic for sometimes. What we are opposing is the design of the project" Dr Wasan said.
Dr Wasan explained that if the canal is buried underground, with no light and very little oxygen it will pollute the water and that polluted water will go straight to Mae Kha canal. Another issue is the concrete pipes currently used are designed to be used for short distances only, so with a total length of 1.6km, they will cause flooding as they are too narrow for large waterflows.
The protest was aimed at convincing Chiang Mai Highway District 2 Office to change the design of the construction. However, as the contract has been signed with the contractor already, that change could be difficult to implement.
Dr Wasan mentioned an technicality that may be used to support a change in design, as the canal was there before the road, so is under the ownership of the municipality not the Chiang Mai Highway Office, so they legally have no jurisdiction over the future of the canal.
So far 300m of the canal has been agreed to not be covered up. The remaining kilometre remains to be decided upon.
Adding its historical value, Dr Wasan said that the canal was actually part of Wat Jed Yod, established by the twelfth monarch of the Mangrai Dynasty King Tilokaraj and was used as a place to revise and rearrange the Tipitaka (a buddhist holy scripture) for the very first time in Thailand's history.