Ms Kathrin Khanchanok Kemmler From Lanna Intl School Wins Dublin Literacy Awards Thailand Final
CityNews – Ms Kathrin Khanchanok Kemmler has taken first place at the 12th Junior Dublin Literacy Awards Thailand finals, after winning in Northern Thailand regionals held by Citylife Chiang Mai.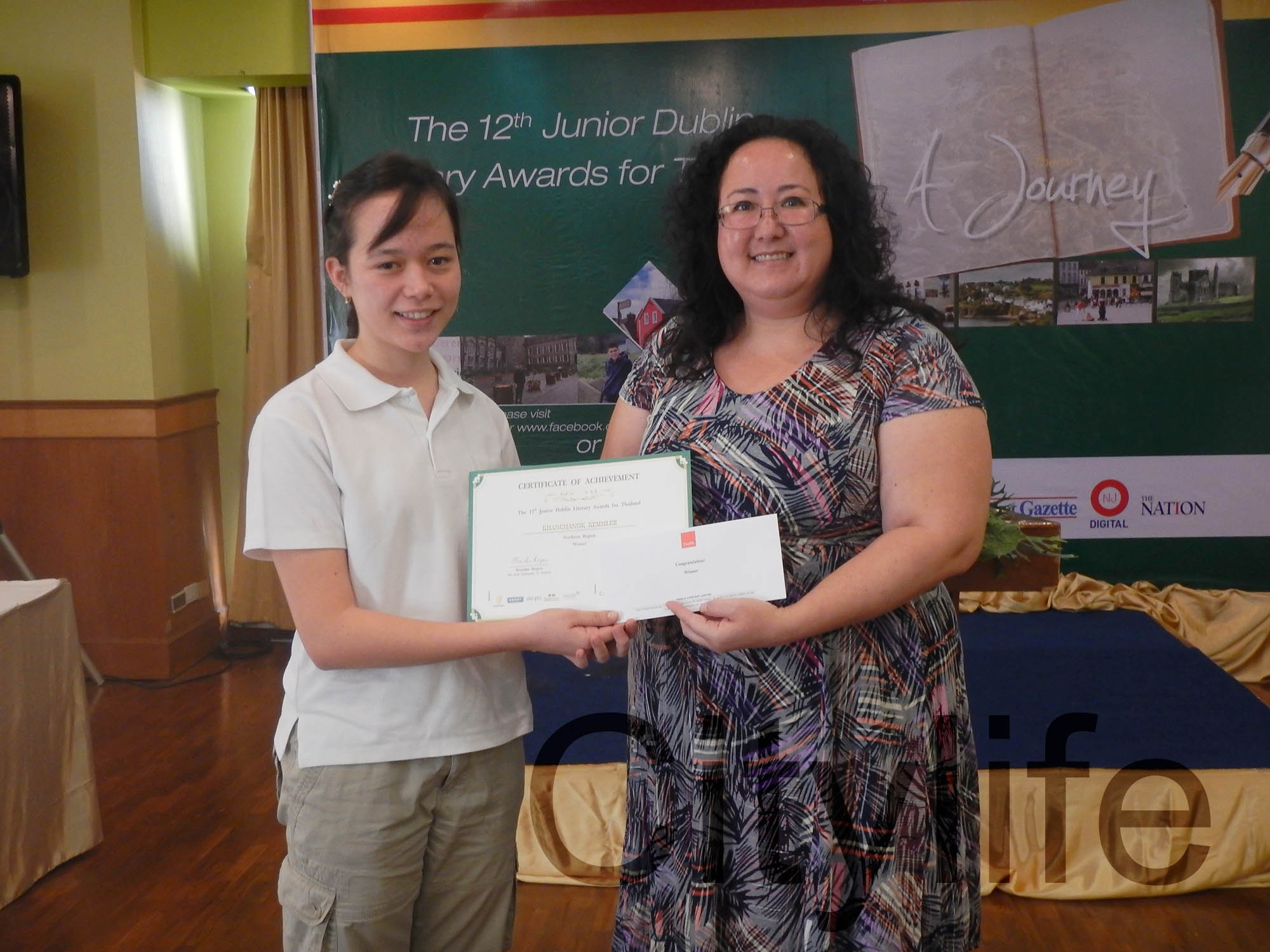 The Dublin Junior Literacy Awards Thailand is the longest running English language essay contest in Thailand. The Northern regional competition was hosted and moderated by editors at Citylife, who chose Ms Kathrin Khanchanok Kemmler from Lanna International School as the winner for the regional competition.
This is the first time in 10 years that the winner of the Northern Regionals has won the final competition in Bangkok.
The four regional winners from Northern, Northeast, South and Central Thailand met to compete in the finals in Bangkok last week. The judges in Bangkok chose Ms Kathrin as the winner. The winner of the competition wins a trip for two to Dublin where the winner and a parent or guardian or teacher will be able to attend the ceremony of the senior international IMPAC Dublin Literary Awards.
The IMPAC Dublin Literary Awards is considered one of the richest literary prize ceremonies in the world.
Ms Prim Beckers Kasemsant from the Concordian International School in Bangkok came second winning 10,000 baht in prize money.
The Annual Junior Dublin Literary Awards for Thailand is jointly organised by The Nation, NJ magazine, and strategic partners; Phuket Gazette and City Life Chiang Mai with support from The Embassy of Ireland, OCS international facilities service, Kerry Ggroup, The Ireland's Chamber of Commerce in Thailand, Emirates Airline.
The main objectives of the annual competition are to enhance the creative English writing skills of Thai students nationwide and to encourage innovative thinking by the younger generation. The 12th Junior Dublin Literary Awards for Thailand judging committee was made up of Brendan Rogers, the Irish ambassador to Thailand; Ms. Philomena Murnaghan, former Irish Ambassador to Lithuania and Argentina.
Dr. Sirikorn Maneerin, former deputy minister, the Ministry of Education; Associate Professor Suchada Nimmannit, former president of Thailand Tesol (the Association of Teachers of English); Ajarn Atchara Pradit, Chair of Children's Literature Program, Department of Library and Information Sciences, Faculty of Humanities, Srinakharinwirot University; Khun Pimpimol Kongkreingkrai Editor, NJ Digital and Khun Pana Janviroj, President, Nation News Network Co., Ltd.
This year's keynote speaker was Khun Somtow Sucharitkul Thailand's most famous composer and writer, who shared his valuable experience with the young writers, offered some useful tips for all creative writers and inspired the young students to continue writing.
The competition was divided into four regions and open to Thai students studying in Thailand between the ages of 14 and 18. They were required to write an essay of between 800 and 1,200 words in length. The theme of the 2016 competition is "A Journey".
For more information, please visit www.njdigital.net/dublin
A copy of Ms Kathrin Khanchanok Kemmler essay will be printed in the April Issue of Citylife.