2,220 Trees Planted by Flight of the Gibbon
CityNews – Flight of the Gibbons first successful tree planting event has seen a total of 2,220 saplings planted in Mae Kampong by the staff, members of the public and national park officers in June 2017.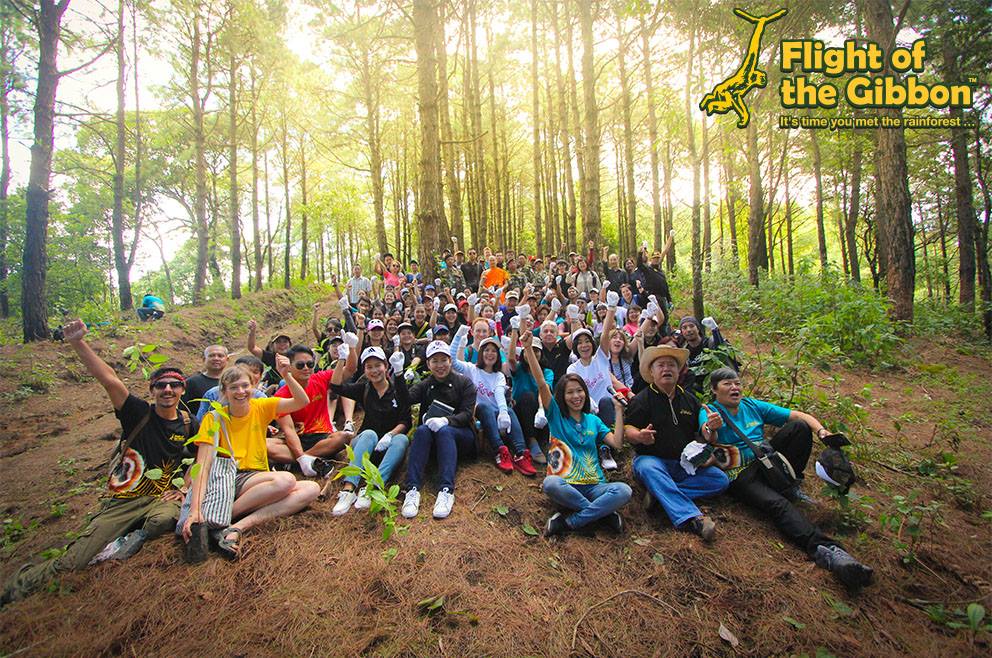 The site chosen to plant the saplings was selected due to its low biodiversity, with 26 native species of trees planted during the event. The tree types were chosen as they were resistant to forest fires, ability to bear fruit for a number of different animal species and ability to create a broad canopy to create shady conditions to inhibit weeds.  Among the 26 species includes bishop wood (Bischofia javanica), soapberry (Sapindus rarak), Indian gooseberry (Phyllanthus emblica), Orange Wild Rhea (Debregeasia longifolia) and Phaya Mai (Podocarpus neriifolius).
The tree species for this area were sourced  from Forest Restoration Research Unit, CMU (FORRU-CMU) and Flight of the Gibbon had the kind cooperation and support from Mae Takri National Park and Chae Son National Park along with the village of Mae Kampong.
This was the first of three tree planting events to be held in 2017, the next of which is to be held at Mae Takri National Park in 15th July 2017 at an area previously deforested by illegal farming practices with the final event to be held at Tham Pha Thai National Park in Lampang province also in 22nd July 2017. Overall Flight of the Gibbon aims to plant 15,000 trees in 2017 and is one of several conservation initiatives the company is committed to.
2017 marks the 10-year anniversary since the beginning of Flight of the Gibbons tree planting events. Every year since 2007 Flight of the Gibbon has held at least one event with great success and also follow up on all tree planting projects regularly with maintenance including weeding and fertilizer to make sure the majority of these saplings survive to maturity.
Flight of the Gibbon was also recently awarded a coveted People's Choice Award and were among the Top 10 People's Choice under the Tourism Activities / Theme Park Category, based on votes submitted by 3.7 million Chinese tourists as their favorite tourism activity / theme park in Thailand, organised by the Tourism Authority of Thailand.