What's Happening?

ARTS AND EXHIBITIONS
"KARMA POLICE" BY YUREE KENSAKU
Now – 3rd November
@ 100 Tonson Gallery
081 910 9440, 084 388 1488
A free solo exhibition by Yuree Kensaku, one of Thailand's most outstanding young female artists, sharing her experience of being cheated by a construction contractor, a situation which left her homeless and studio-less. Gallery open Thursdays – Sundays, 11 a.m. – 7 p.m.
DIGITAL PHOTO EXHIBITION 2013
6th – 10th September
@ Zone A, 3rd Floor, Kad Suan Kaew
www.l-kad.com/index.asp
A photography exhibition proudly presented by the Fine Arts students of Chiang Mai Rajabhat University.
ART INSTRUCTORS ART EXHIBITION
6th – 27th September
@ CMU Art Centre
www.facebook.com/CMUartcenter
An art exhibition presented by instructors at the Department of Printmaking, Painting and Sculpture from the Faculty of Fine Art at Chiang Mai University.
"THE WORLD I DREAM IN"
14th September – 31st October
@ 116 Art Gallery
053 302 111, 089 853 2488
www.lisamosesgallery.com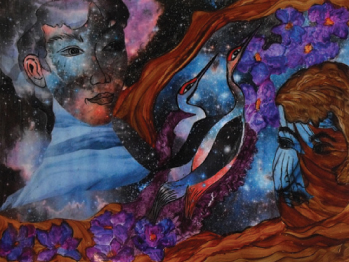 At her opening reception on 14th September at 6 p.m., Thailand-based American artist Lisa Moses will be talking about her work (cast acrylic collage prints that play on the theme of relationships between art, our earthly world, the sky, and the infinite galaxies) to raise money for child prostitution prevention.
FAIRS AND FESTIVITIES
THE 14TH ANNUAL WORLD GOURMET FESTIVAL
6th September
@ Four Seasons Resort Chiang Mai
053 298 181
For one night only on Friday, 6th September, 2012, the World Gourmet Festival comes to Four Seasons Resort Chiang Mai for a special one-off dinner created by Chef J?r?me Bonnet of Restaurant Daniel in Paris, paired with wines by renowned French winemaker Pascal Jolivet from Sancerre. The dinner will begin with a cocktail reception at 6.30 p.m. Tickets cost 3,200 baht per person, including 600 baht charity donation (subject to government tax and service charge).
HOUSE EXPO 2013
1st September
@ G Floor, Central Airport Plaza
https://www.facebook.com/CentralPlaza ChiangmaiAirportFanpage
Don't miss a chance to receive 10-60 % discount if you are looking for a quality property in the north by banks and finance institutes.
SHOWS AND CONCERTS
CHIANG MAI TROUPE RECITAL
CONCERT
1st September
@ CMU Art Museum
The Chiang Mai Troupe Juniors and Youth will perform their special recital on the 1st floor at the back of the CMU Art Museum, 10 a.m. – 3.30 p.m.
THE 15th ANNIVERSARY "MUSICAL CONCERT 4 in 1"
1st September
@ Kad Theatre, Kad Suan Kaew
www.cmvoicestudio.com.
The 15th Musical Concert 4 in 1 will be performing four of the world's all-time greatest musicals: The Phantom of the Opera, Les Meserables, Miss Saigon and Mama Mia. Tickets are 1,500/1,200/1,000/ 700/500/300 baht. Please reserve at Kad Suan Kaew, Rimping Supermarkets at Meechoke, Nim City and Promenada as well as Robinsons Central Plaza Chiang Mai.
POTATO CONCERT
3rd September
@ Tarabar Pub and Restaurant
086 345 6948
A performance by one of Thailand's favourite pop rock bands, Potato.
CHIANG MAI ADVENTURE FESTIVAL
Throughout September
@ Mae Rim District
053 891 500
Join activities such as motocross, ATV racing, a motorcycle rally, a bicycle rally, Hmong racing, concerts and a photo contest.
LOOK KRUNG IN CONCERT
14th – 15th September
@ CMU Art Centre
www.facebook.com/LoogKrungInConcert/ photos_stream
A special traditional Thai concert presented by Thai classical music conservationists and the CMU Thai Dance & Music Club. Performances at 2 p.m. and 6 p.m.
COMPETITIONS
PEOPLE GAME SEASON 2
30th August – 1st September
@ Chiang Mai Hall, Central Airport Plaza
086 338 5606
www.facebook.com/smartsme
Lanna cooking competition to win a grand prize of 50,000 baht at the SME Expo 2013.
JUNIOR IRON CHEF
7th September
@ The Plaza Chiang Mai
053 283 085 ext. 125
www.facebook.com/TheplazaCM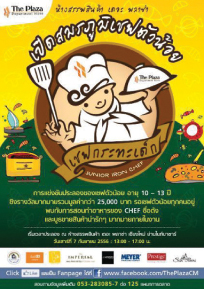 Cooking competition open for all children aged 10-13 years, with chances to win 3,000 baht and 1,000 baht gift vouchers. 4th Floor of The Plaza Chiang Mai, 1 p.m. – 5 p.m.