The Community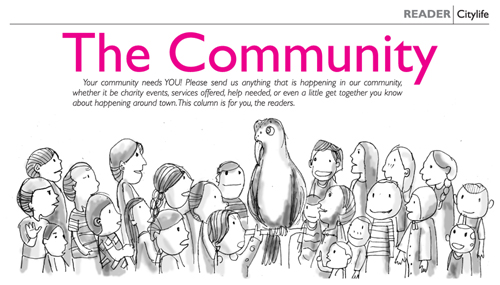 01 Nicotine anonymous
Want to stop smoking? It works! Meetings on Wednesdays and Saturdays at 1 p.m. at the 7 Fountains, Huay Kaew Road. For more information please call Earl 086 194 6300 or Peter 087 145 9655.
02 AA group
If you want to drink, that's your business. If you want help to stop drinking, that's our business. 2 AA meetings a day, 7 days a week. Call us at 082 186 2518. We are here for you. More info at
www.chiangmaiinternationalgroupofaa.org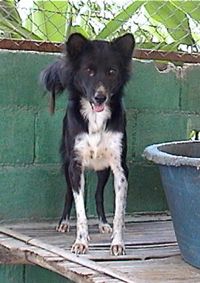 03 Dog of the Month: Macha
Macha, about four years old, is easily overlooked, sitting out of sight in her little bed along the back wall of the shelter. Although a little shy she is incredibly sweet, affectionate and very loving.  Macha is a small to medium sized dog, healthy and sterilised and has a lovely soft black and white coat. She is for sure the perfect addition to any home with or without children but preferably not very dominant dogs… Come to the shelter and take the time to find her, afterwards she will reward you in spades! For further information please call the Care for Dogs shelter at 084 752 5255 (English), 086 913 8701 (Thai) or email [email protected] Or visit our website at www.carefordogs.org for more information.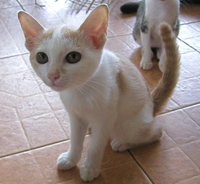 04 Cats Need Homes
Three rescue kittens and two young cats looking for loving homes. Jake is a beautiful fawn tabby boy who purrs non-stop and loves to be loved! Rescued from the streets of Bangkok, he's now vaccinated, sterilised and about eight months old – he's a super friendly boy!  Two red & white tabby boys and one black boy, 5 months old, very friendly, and a very pretty female, Dalaa, about six months old – Like Jake, she's super friendly and sterilised. Call Gilly 0871 89 1623 [email protected] Photos:  http://flic.kr/ps/K4NoW
05 The american Veterans of Foreign War Post Chiang Mai
The American Veterans of Foreign War Post Chiang Mai is a social meeting group assisting veterans of foreign wars with various matters. The group also aim to help the widows and children of veterans in claiming benefits and entitlements, organise fund raising and other events. The Veterans of Foreign War Post Chiang Mai meets on the first Saturday of every month at The River Market Restaurant at 11 a.m. New members are welcome. More info at www.vfw-chiangmai.com.
06 Women's Alcoholics Anonymous Meeting 
This support group for families and friends of Alcoholics and Addicts meets every Wednesday at 2 p.m. at the Fern Forest Cafe (private room upstairs), 2/2 Singharaj Soi 4. Call 085 018 8706 for more info.
Newcomers' Orientations
The Raintree Resource Center and Well Member Care Center invite you to an orientation session where you can ask all your questions, network with others, and obtain resources such as Helpful Hints for Getting Settled in Chiang Mai.  If you are new to Chiang Mai and would like to get answers to some of your questions or just love Chiang Mai and would like to share some of your positive and helpful experiences, you are invited to join them on Saturday 12th January from 9 a.m. – noon at Raintree Resources Centre.
How to survive in daily life? Warorot Market offers a wide range of products, foods and more at reasonable prices. How can you get there and find the items? Join the orientation on Saturday 26th January at 9 a.m. at Raintree Resource Centre.
Raintree Resource Centre is located in the first floor of CMCC Centre on Charoen Muang Road, near Nawarat Bridge.
For further information, call 053 244 820 or email: [email protected]