Ten Years Ago

Citylife (which changed its name from the Chiang Mai Newsletter in 2002) has been in publication for over seventeen years. Let's look back at what we wrote 10 years ago.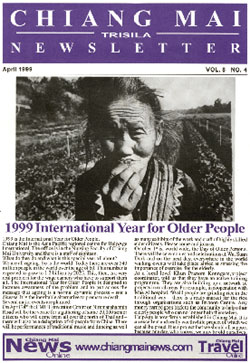 1999: There is a great deal of confusion over the correct spelling of Chiang Mai. Major Roy Hudson wrote a famous article listing over fifty ways in which Chiang Mai has been spelled in the past. However, the booklet 'Romanisation Guide to Thai Script' published by the Royal Institute, Bangkok in 1968 and reprinted in 1982 gives the key instruction as, "geographical names are broken up into individual words, when, and only when, each syllable has a specific meaning." Chiang Mai, a New Town, is quoted as an example of a place spelled with two words whereas Chiangrai that has no meaning is therefore only one word. Sukothai has no meaning and is also spelt as one word.
Dipthongs are clearly listed and the sound IA is pronounced as in India. So Chieng is not correct except in registered names such as the Chiengmai Gymkhana Club.
2009: Ten years on, Citylife is still on a campaign to spread awareness about the proper Romanisation of our city's name. It astounds us why some still choose to spell Chiang Mai as one word when the Royal Institute has decreed otherwise. One does not choose to spell Newyork or Kualalumpur or Losangeles willy nilly. It is not a choice, it is simply incorrect. So once again we call on residents of Chiang Mai to begin using the correct spelling for our city. It is Chiang Mai, not Chiangmai. And Chiang Rai is also spelt as two words. Yes, we are sticklers.
100 YEARS AGO
The Chiang Mai Record was kept by D.F. Macfie from 1884 to 1919 noting the names and movements of foreign residents and visitors in the north of Siam.
April: H.C. Shekell (BBC) retired and left Siam for home. Chao Dara arrived on state visit from Bangkok. 9th Branding Paste first started.
Mr. Roy French Viceroy Consul left for Bangkok.