Special Scoop: Absolute Care Clinic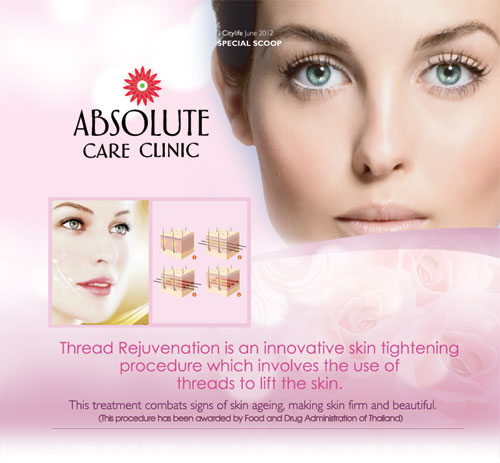 This treatment tightens, lifts and restores skin. The PDO [Polydioxolane] Thread Rejuvenation treatment was originally developed by surgeons to bind together consecutive tissue or sew blood vessels in the body. As the name suggest the treatment uses tiny threads to lift the skin. Over time the body produces collagen around the threads, which helps support the new elevated position of the skin. After this process the body will slowly dispose of the threads within 6-8 months. The new collagen cells makes the skin more taught and therefore firmer, also helping stimulate the metabolism and blood circulation. One advantage is that this treatment is reversible, though it is unlikely that you would wish to do so.
The Results and Safety of Thread Rejuvenation
After Thread Rejuvenation treatment you will be able to see the results after 1-2 months, after 6 months the effects will be fully obvious and will last for approximately 2 years. (Depending on the regularity of your treatments. It is advised you have the treatment 2 to 3 times together every three months)
The side effects from Thread Rejuvenation are very minor. There may be some very small scratches to the skin, or a very slight amount of bleeding whilst doing the treatment, but once again these are very minor side effects. The skin itself may redden slightly after treatment for 1-2 days but this will soon fade back to normal. The skin may become swollen for one week. However you can still wear makeup as usual to cover up any bruising or side effects. If a client has many capillaries where the threading is done there may be more chance of these side effects.
Preparation for Thread Rejuvenation
Approximately one week before the treatment you should take food supplements or medication which thin the blood. For example ginkgo, cod liver oil, ginseng, dong quai (female ginseng), vitamin E, also anti-inflammatory drugs such as Brufen, Naproxen, Motrin, ASA to lessen the bruising.
It is advised that the person under treatment should have a healthy diet, avoid smoking and drinking alcohol, have enough sleep and take plenty of rest during treatment process.
We offer you a free consultation with a doctor to analyse your skin problems and design the most suitable treatment for you.
Open Daily : 10.00 am. – 08.00 pm.
12/2 Boonruangrit Rd., Sri-phoom, Muang, Chiang Mai 50200
Tel: 053-894872, 081-5309597