Saturday Homemade Market for Foodies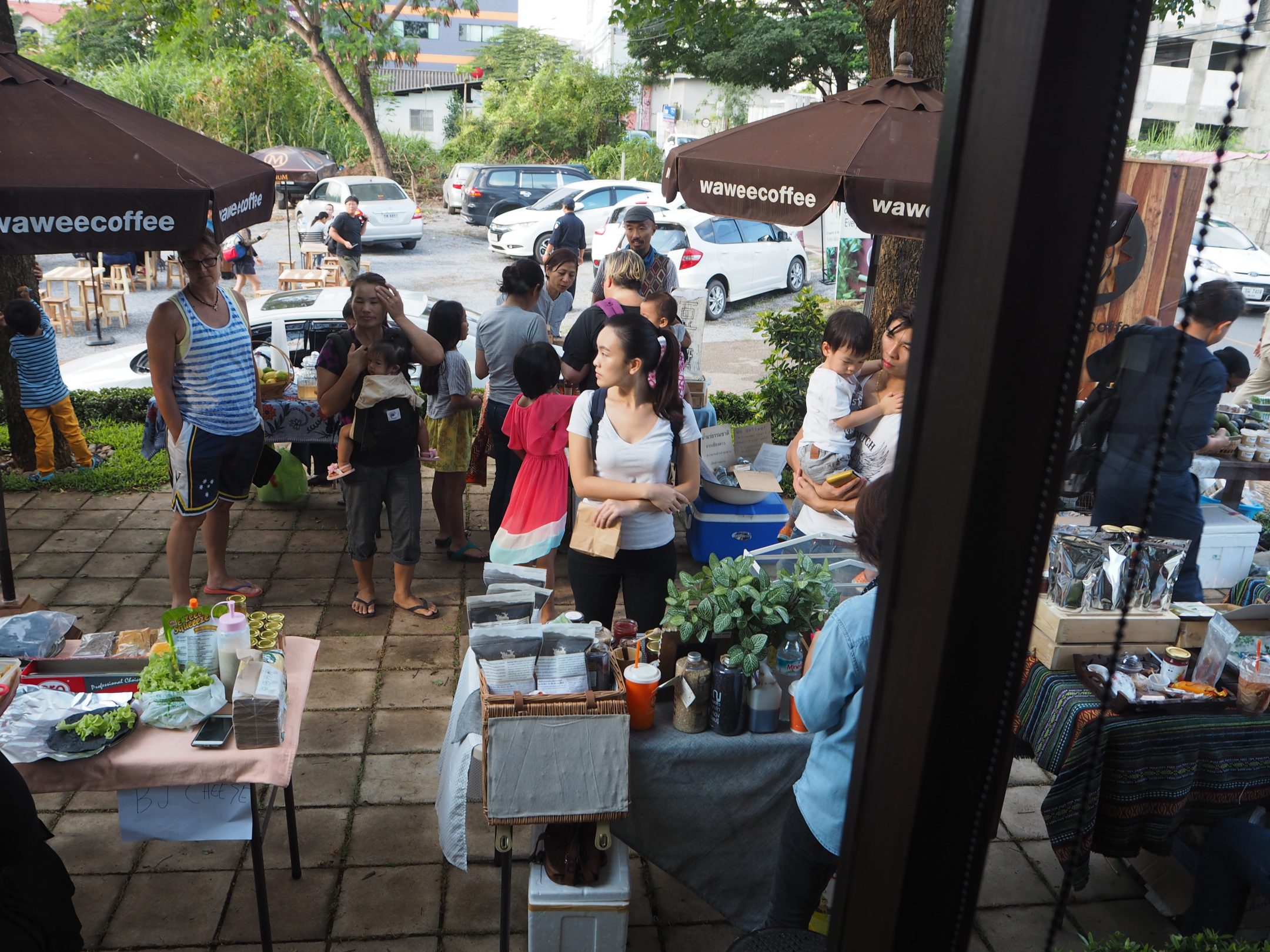 Saturday Homemade Market for Foodies
If you are a foodie, then make sure you don't miss out on the Homemade Market on Saturdays at the Wawee Coffee head offices at the Meechock Junction. Some of the city's most beloved chefs come to casually share their passion with culinary groupies like us Citylife reader (and writers). With food from across the globe, this is a centre of delicious homemade produce from the talented hands of Chiang Mai's chefs. Breakfast was begin with food from chef May from Monkey's Kitchen, chef Chock from Cook with Love, chef Nueng from Bucoliq, chef Nan from Cuisine de Garden and chef Andrew Commins, the newest addition bringing French food from mid-January who still be here at market.
In addition, there are local food from Kad San Ka Yorm like steamed buffalo beef and for those who love indian food, Mama's Kitchen also do breakfast wrap and Sabai Dee restaurant brings ayam golek, grilled chicken in a Malay style. For a Mexican breakfast, enjoy French folds and chicken fajitas of Culinary Pirates. For the Thai classic, try the rice soup mixed with entrails from Sabaidee restaurant.
If bakeries are more your haunt, then visit the Lanna Patisseries stall or try some freshly baked bread from French Bread Collections, or tuck into a warm croissants from Follies. Lava buns from Pa Pun and hot tea and ginger ale products are served throughout the day by Nam Khing. Sit down and enjoy some swinging jazz music and chat with friends from 7.30am to noon every Saturday. Festive, fun and super sabai, this homemade market is a great new addition to Chiang Mai's growing market groove.
This Saturday, March 25th, try some of the new dishes on offer at the Homemade Market. Three Little Monkeys, Culinary Pirate, Italian Pizza and Lasagne by Thai Ita, B-Garlic, homemade ginger ale by Nam Khing, Lanna Patisserie, BBQ homemade sauce by Sada, Pa Pun & Corn Juice, homemade burger by Solhy, cakes by Dinki, goat cheese by DoFann Cheese, organic dairy by Ice Dream Boutique, La La La Food & Sweets, Thai dessert by Dee la da, Wanalee Garlic, CMU fried chicken, Mama's Kitchen, German bakery by Alpina, Pate by P Ta, Cher Hydro Farm, rice by Im Khun, Hanada Farm, Sara's Kitchen, BJ Cheese and Northern food by Kad Sankhayom.
Homemade Market
Wawee Coffee head office at Ruamchok Meechai Intersection, the road behind Tesco Lotus, 100 metres for diving and the market is on right hand.
Open Saturdays 7am – 12pm Tel. 081 673 3784 Facebook: homemademarketcnx