Mahabrarata's One Night Only in Chiang Mai:
A Collaborative Masterpiece of Physical Theatre by Asian Artists
Mahabharata Chapter I, depicting fights of various gods, was initiated in Cambodia in 2013, and is gaining popularity and excitement from audiences across Asia. The Indian epic has continued to create chapters – Chapters II, II.5 and III – and have toured in many Asian countries including Vietnam, India, Malaysia, Indonesia, China, Philippines and Japan, to much acclaim. In 2017, the story of the great battle will finally conclude its fourth chapter, entitled 'War Was Over', right here in Chiang Mai.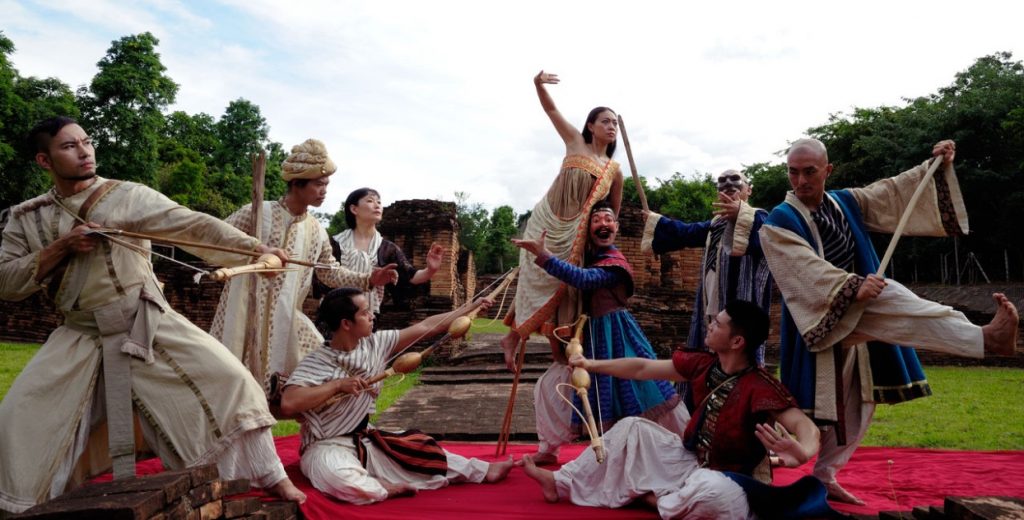 Unlike Ramayana, the epic story of battles between gods widely popular among Southeast Asian countries, including Thailand where traditional dance-drama repertoire originated from, the Mahabharata finds its popularity in many traditional art forms of India and Indonesia. However, both literatures share similarities in its philosophy and thought – that wars can only bring destruction.
Hiroshi Koike, veteran director from Japan and the man behind the Pan-Asia Mahabharata Project, wants to base his work on the origin of Asian culture. He sets out his main purpose to regain the wisdom, thought, and sensibility many of us may have lost. This is a project is an annual stage creation and tour which visits various parts of Asia. This project will continue until 2020, the year of Tokyo's Olympic.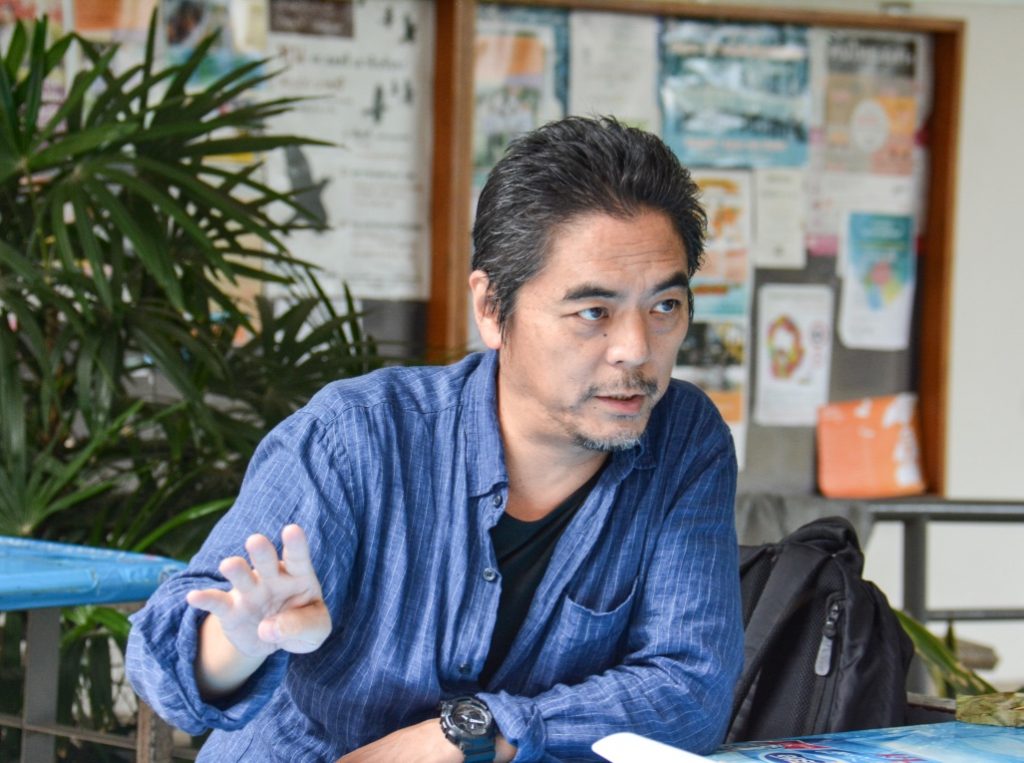 Asked why Chiang Mai has been chosen to be a base for his creation of the latest chapter, Koike points out two keys reasons. First, it is about the special characteristics of Lanna dance and movements where artists can be open to experiments in its form and styles. Unlike the Khon dance of central Thailand where rigid steps and movements are prescribed with strict traditional rules imposed for artists to follow. The art of Lanna dance is more flexible and fluid, hence paving the way for a greater synchronisation with art forms from other cultures. "I changed from Khon dance to Lanna dance. Lanna dancing movements are much more flexible than the Khon dancing steps. Therefore, I choose to do it here," said Koike.
The second reason is more about the personal connections he has had with two Chiang Mai locals, Waewdow Sirisook and Ronnarong Khampha, both of whom had earlier joined his productions. In the Fourth Chapter, Koike selected five Thai artists – one from Bangkok Teerawat Mulvilai (Aka – Kage), Artistic Director and Co-Founder of B-Floor Theatre, and four from Chiang Mai in which two are young new comers.
The Story
The Kuru family and the Pandu family are both descendants of the gods. For countless years, these families have harboured ill will towards each other, and their resentment came to a head with a great war. Bhishma led the Kuru family and Dhrishtadyumna the Pandu family as generals of their armies, but on the tenth day of the battle, Bhishma, the elder of both families, was felled by an arrow shot by Arjuna, his grandchild and disciple.
As the last part of the whole story of Mahabharata, the audience will find what the war brings us and what the world peace is.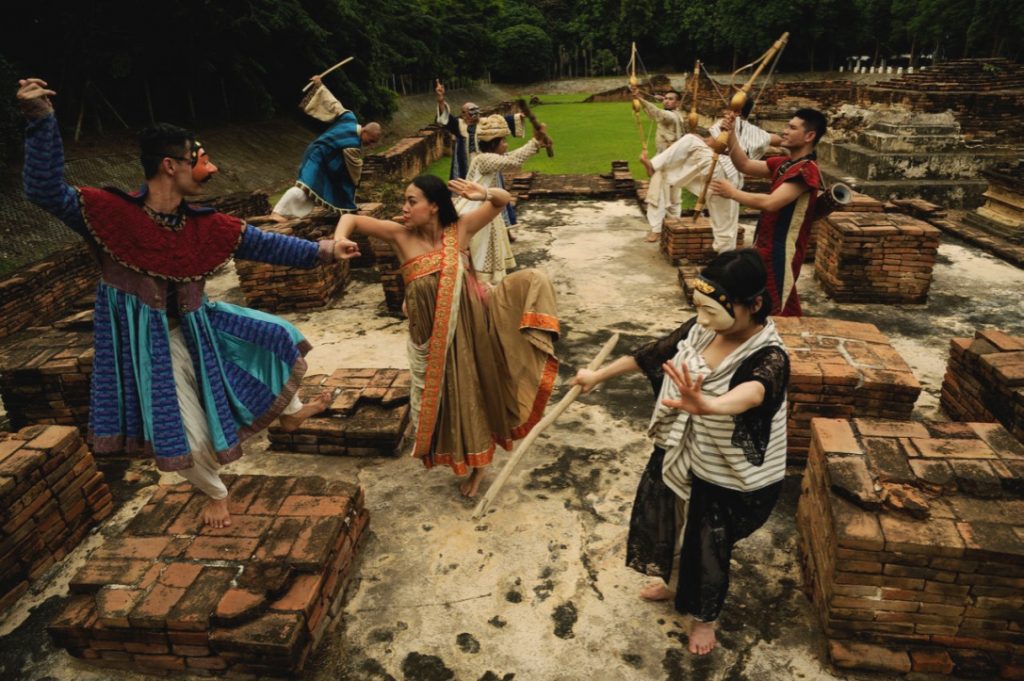 The battles in Mahabharata are metaphors for our present world full of ignorance, blindness, and vengeance that ends with destructive results. Koike addresses his view "it is very easy to fight the other person (or the country). But we need to know the future – how to develop the world? How to communicate and find our similarities? I want to ask the audience to think about the world by their own ways. The present time is important. Sometimes, we become too relaxed, especially in nowadays' age of information. I want everyone to understand and recognise and think about what is happening in our world." Will history repeats itself if human beings still wage wars? In the last scene, characters echo a thought provoking messages in a more sarcastic way through the rap song:
"It's not too late, we won't be late It's too late, there's no time to think I'm not scared, but I'm not brace. You can't see it unless you want to, the present. You can't see it unless you try, ancient history Mahabharata, a story from ancient history, that connects to current politics Mahabharata, a story of despair, we have to see it. It's the story of reality. Villains fill the present. It is Duryodhana's present. We live in the present. Will world peace come or not? Now we must confront, of course. Will you all live or die? Whether we die or live, is uncertain. The present is the border of this world. The present is the border of this world Wow!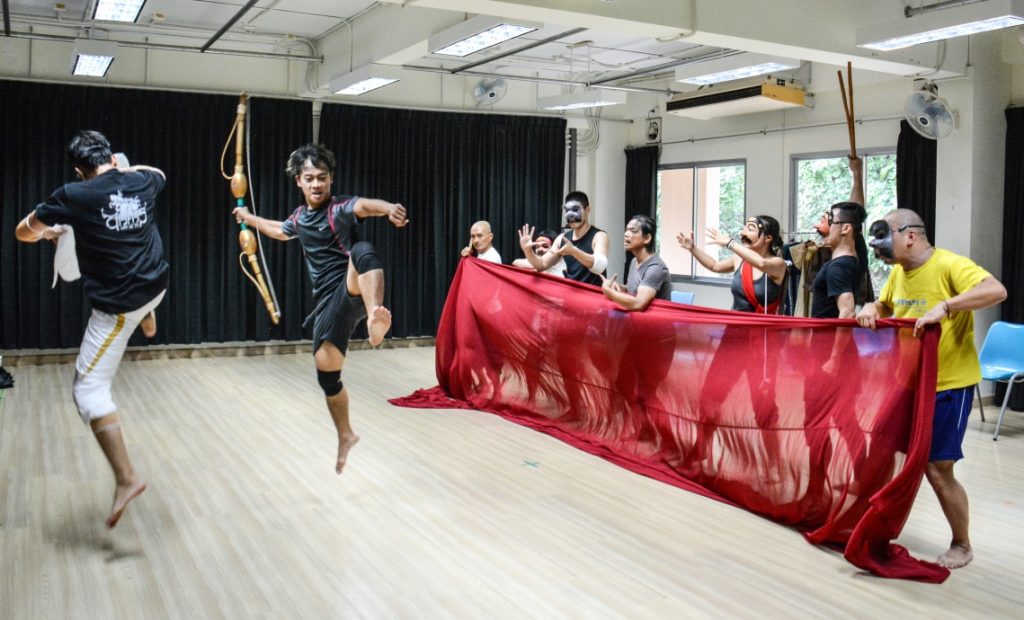 Epilogue
Mahabharata project is truly an international production in all senses of the word, participated by experienced and multiple talented artists from many Asian countries. It is a physical theatre with some dialogues which will be projected as subtitles on screen. For two months, six days a week, and eight hours a day, the cast of nine performers painstakingly rehearsed for the show with their full energy and artistic endeavour. Chiang Mai is very fortunate to host the project as well as be the world premiere show ahead of Bangkok and other major cities overseas. What Chiang Mai should be proud is its local artists were given an opportunity to work with first-class international artists; multiculturalism and artistic languages have no boundary. Unfamiliar literature turns out to share a common view about our world – past and present seem blurry, unless we open-up ourselves and change mindsets.
The one-an-a-half-hour production will definitely take us on an energetic and artistic journey never before experienced in Chiang Mai. Come to support our local talents and be thankful to the whole production crew for making it happens – right here on our doorsteps!
Performance Information:
Chiang Mai
5th August, 2017, 7pm (only show)
Chiang Mai College of Dramatic Arts Theater
Fees: 350 baht (general admission)
200 baht (students under 19 years old)
Please send the photo of transfer receipt and your name to Mahabhalata Part4 facebook page
Bank account info: Name: Supreeda Wongsansee, No.504 0 79775 4, Bangkok Bank
Touring schedule:
Bangkok
8th August 2017, 6pm
9th August 2017, 2pm
Bangkok University Rangsit Campus
Tokyo
12th August 2017, 7pm,
13th August 2017, 2pm
Parthenon Tama, Tokyo