Japanese Heaven
Japanese restaurants are popping up across the city, and Chiang Mai is firmly established the best city for sashimi and sushi rolls north of Bangkok. Whether you're looking for high end fancy slices served with all the toppings you can imagine, or cheap easy and delicious noodles and sashimi, we have you covered.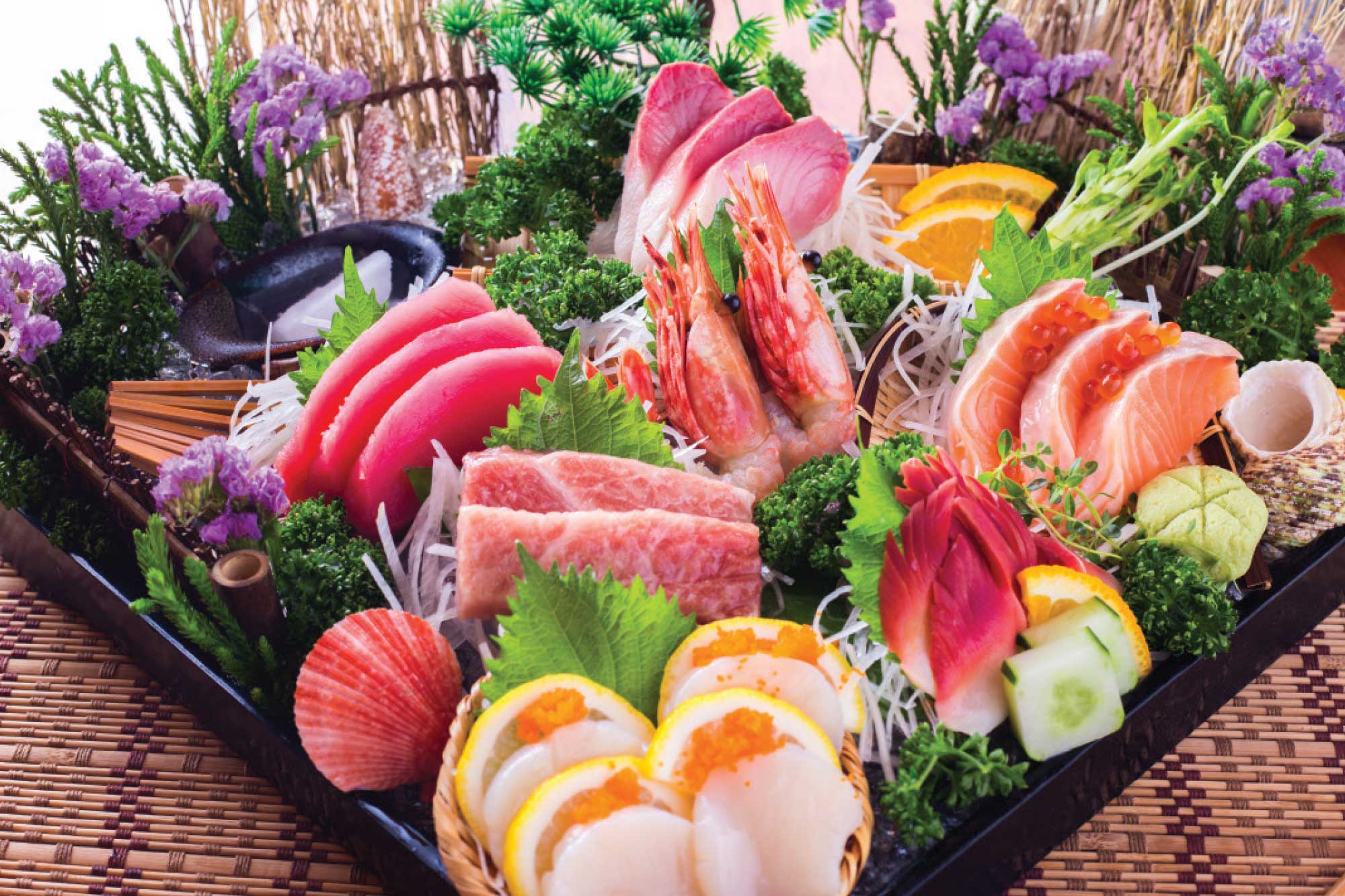 Sakanaya CNX
This curious Japanese restaurant that has opened up near Nimman features delicious Japanese cuisine in a lovely setting. Being halal, this is a great place for anyone with religious dietary concerns that may prevent you from eating Japanese food at other locations. The restaurant is beautifully decorated with teak wood and eclectic furnishings that offer intimate seating for two all the way up to large groups. The sashimi, from salmon to tuna, otoro to prawns, is fresh and perfectly prepared each and every time. The chef makes great rolls and the restaurant also imports Australian Wagyu that can be served in a number of ways including a straight steak for those meat lovers out there. Interestingly, the restaurant also has a nice collection of sweets, including the Boston cheesecake which pairs perfectly with a hot cup of freshly brewed coffee.
Open 11am – 2pm and 5pm – 10pm
21/10 Soi 9 Sirimangkalajarn Road, Suthep
Facebook: Sakanaya CNX
053 216 883 / 084 611 8116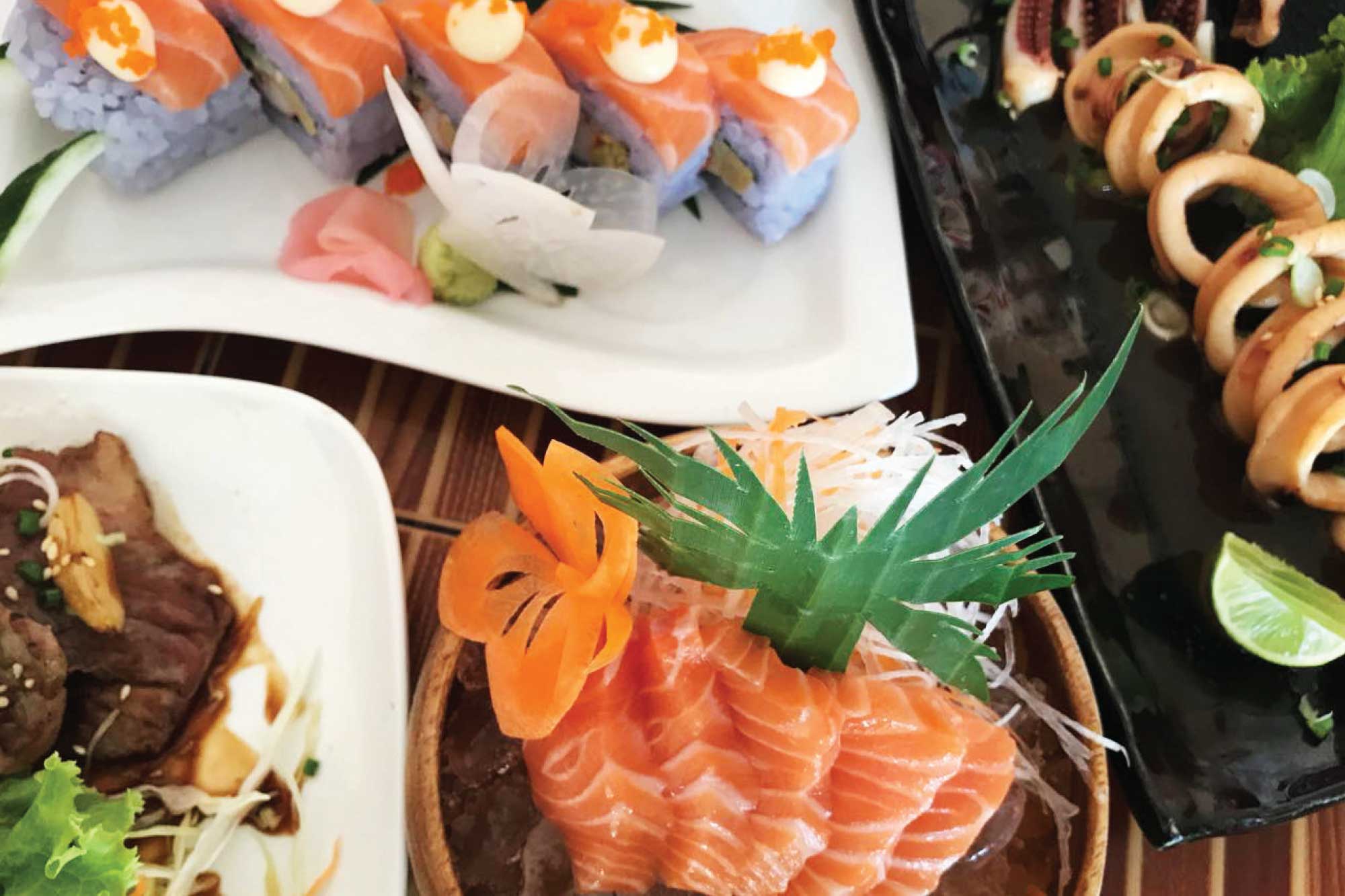 Takeshi
If you love Japanese food but don't want to break the bank, then head down the road towards Airport Plaza and stop off at Takeshi. The entire menu is just 59 baht a dish (apart from some special extras), which includes fresh salmon sashimi, grilled beef in teriyaki sauce, squid in steak sauce, soba, udon, tempura, maki, nigiri and more. With over 12 years' experience in some of the best Japanese kitchens in town, Chef Big has decided to go it alone, and although the restaurant itself looks a little rough around the edges, the food is top notch. All the rice he uses in rolls and sushi is coloured purple with natural butterfly pea flowers and he buys a whole salmon every morning ensuring freshness, but when it's gone it's gone! Chef Big makes the point that Japanese food is overpriced in Chiang Mai so he is trying to bring high quality food at fair prices, claiming his ingredients are exactly the same as those he used to work with in fancy restaurants. We aren't making any claims here, but we will be back again soon, so best try it for yourself and you may be pleasantly surprised!
Open 11am – 2pm and 5pm – 10pm (Closed on 7th, 17th and 27th of each month)
44 Mahidol Road (next to the Bangchak gas station)
Facebook: Takeshi 59 Chiang Mai
081 169 5608
Minato Sushi and Seafood Bar
Minato has opened their fourth branch here in Chiang Mai, but this one is a little different. Claiming to bring high quality Japanese food you expect to see in Bangkok to our humble town, Minato has opened their first sushi and seafood bar in Nimmahaemin soi 9. This is not to be confused with the Nimman Soi 15 restaurant or the Maya sushi bar in Rimping, but is its own standalone seafood bar with some of the best sushi you'll find in the city. They have fresh Baron Point, Japanese and Kumamoto oysters in tanks ready for picking, alongside fresh lobsters they serve both in sashimi, steak and salad forms. If you love Japanese food and also love oysters, then try the Nama Kaki Set that serves a selection of oysters in four ways or if raw fish is more your thing, order up the special sushi set that includes eel, foie gras, salmon, Hamachi, engawa fish and topped with things like salmon roe and uni. If you like a bit of spice, order the strikingly orange spicy salmon maki on top or if you love fish but want an easy dish then grab a bowl of Bara Don — a selection of raw fish served on fresh rice and seaweed.
Open 11.30am – 10pm
Nimman Soi 9
Facebook: Minato Sushi Bar
Line: Minato.sushibar
052 064 242