From the Editors: May 2016
ฉบับนี้ เป็นฉบับพิเศษ เพราะ Spoon&Fork ได้นำเสนอเรื่องราวของอาหาร มาเป็นระยะเวลา 2 ปี ซึ่งกำลังจะก้าวเข้าสู่ปีที่ 3 ในระยะเวลาสองปีที่ผ่านมา เราเปรียบได้กับเด็กน้อยที่กำลังหัดเดิน เป็นที่น่ายินดี ที่แต่ละย่างก้าวเรามีผู้คนคอยโอบอุ้ม ซึ่งก็คือผู้สนับสนุนเรา ร่วมอุดหนุนในสื่อสิ่งพิมพ์ (ซึ่งปัจจุบันสถานการณ์อาจจะไม่ค่อยดีนัก) แต่ก็ได้รับการช่วยเหลือตลอดมา สิ่งเหล่านี้ล้วนเป็นกำลังใจสำหรับทีมงาน ที่ยังคง อยากจะนำเสนอเรื่องราวดีๆ ให้ผู้อ่านได้ติดตามกันเรื่อยๆ เรื่องราวของอาหารในแต่ละเล่ม ที่ผ่านกระบวนการสร้างสรรค์ ภาพจากปกฉบับนี้จะเล่าเรื่องราว "กว่าจะมาเป็นหนังสืออาหารในแต่ละเล่ม ผ่านตะกอนความคิด การค้นคว้า การค้นหา ด้วยวิธีการอย่างไรมาบ้าง" เราอยากปล่อยให้ ภาพเล่าเรื่อง เป็นอาหารเรียกน้ำย่อย ก่อนจะสู่สิ่งดีๆภายในเล่มและเพื่อเป็นการขอบคุณอย่างสุดหัวใจสำหรับผู้อ่าน ฉบับนี้เราได้รวบรวมผู้สนับสนุนที่แสนใจดี หลายสิบร้านมาแสดงการสรรค์สร้างอาหาร คาว หวาน ในแต่ละเมนู ด้วยโจทย์ที่ว่า "เมื่อนึกถึง Spoon&Fork คุณนึกถึงเมนูอะไร"
เราจะได้เห็นอาหารที่รวบรวมความสุดยอด ของแนวคิดและฝีมือได้เต็มๆในฉบับนี้ ขอบคุณสำหรับการสนับสนุนจากทุกๆท่าน สำหรับพี่สาวคนโต Citylife ของน้องสาว Spoon&Fork ก็จะอายุครบ 25 ปีในอีกไม่กี่เดือนข้างหน้า และเราก็หวังว่า Spoon&Fork จะเติบโตตามรอยพี่สาวไปถึงจุดนั้นเช่นกันขอให้ดื่มด่ำกับเมนูที่อยู่ตรงหน้าคุณผู้อ่านทุกท่านนะคะ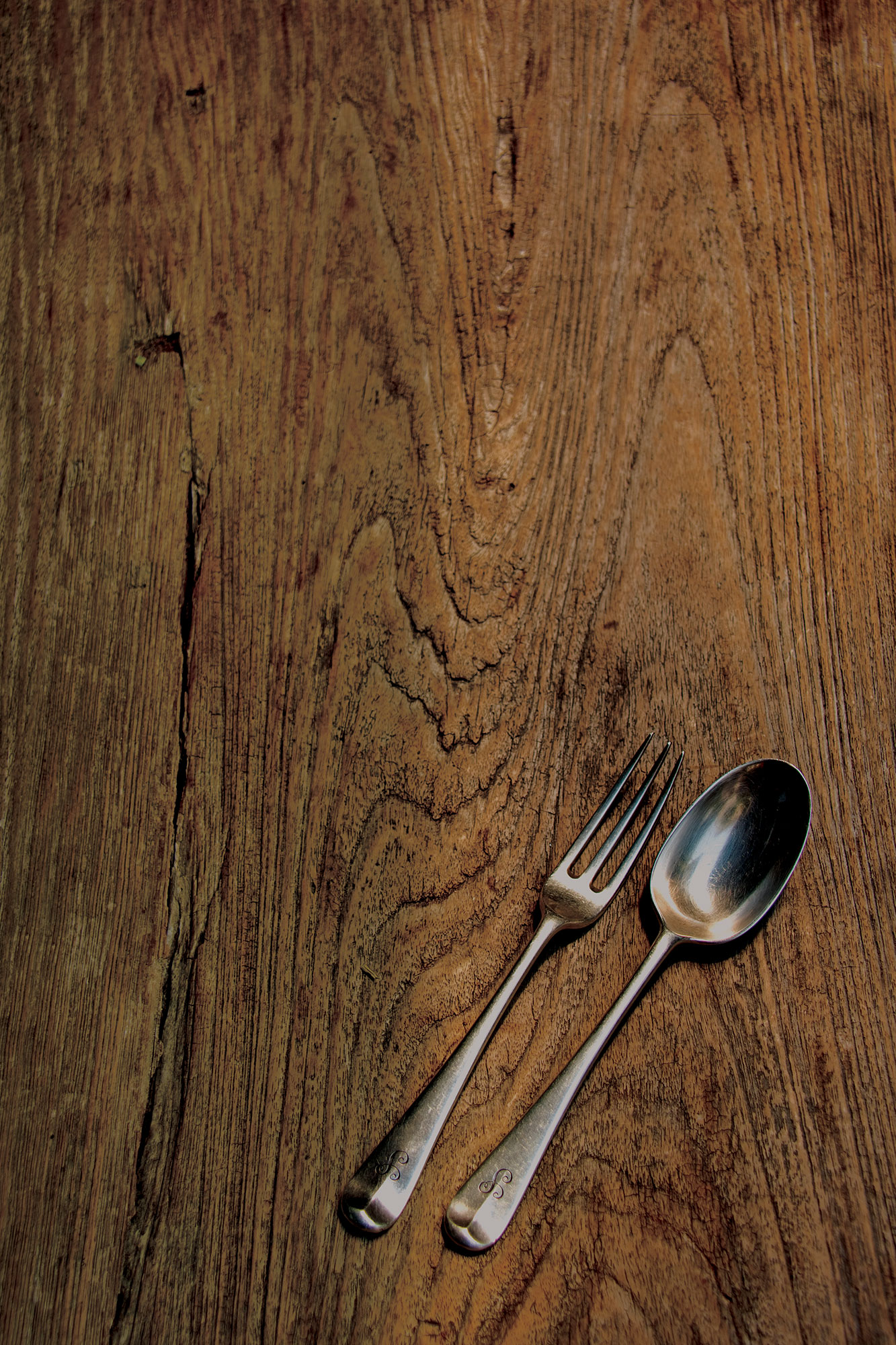 We are two years old this month! Quite a miracle, considering the state of print media today. So thank you to all of you readers who have given us your support and feedback over the past 24 months, and of course our advertisers, who make it all possible.
In Thai, it is traditional to say that we are entering our third year, in case there is any confusion!
To celebrate Spoon&Fork going from strength to strength, we have invited back some of our favourite restaurants, featured over the past two years, to share with us one dish which reminds them of Spoon&Fork, The results, I am sure you will agree, are wonderful, creative and importantly, mouth-watering.
Chefs and restaurateurs have offered up colourful salads, moist and decadent cakes, rich and complex soups, succulent steaks and so many more dishes, which each in their own ways, remind them of our magazine, be they as colourful, as exciting, as practical, as appealing or as vibrant as they perceive our mag to be.
Thank you everyone very much for your support. Citylife magazine, Spoon&Fork's much older sister, will be celebrating
its 25th anniversary in a few months…fingers crossed Spoon&Fork will one day reach that milestone. Enjoy and bon appetite!
มาเรียม บุญมาลีรัตน์
Mariem Boonmaleerat