Food Trails: Jardin d'été Gelato and Dessert Cafe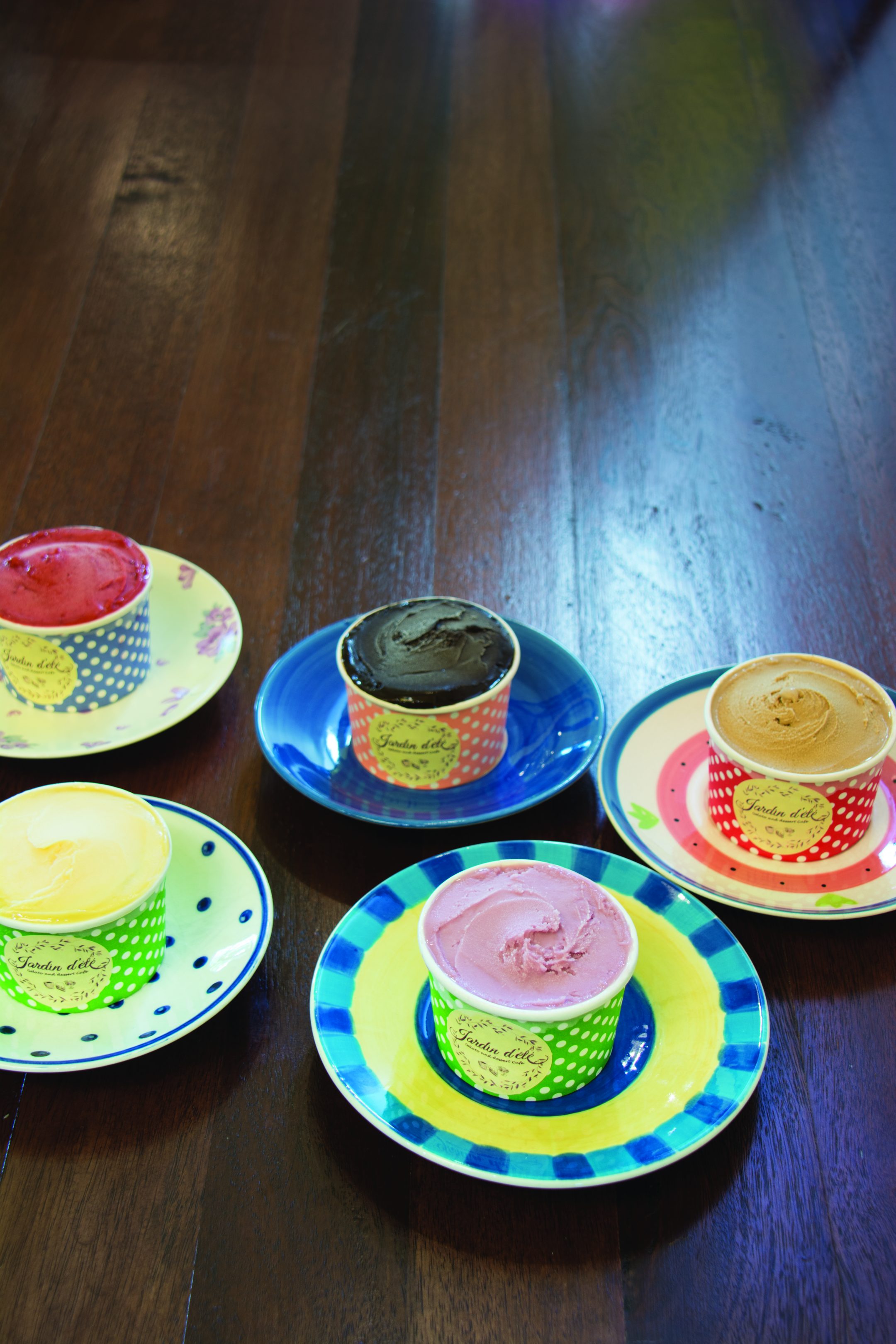 จากความรู้และประสบการณ์ที่ร่ำเรียนในต่างแดน สู่ร้านขนมหวานที่เต็มเปี่ยมไปด้วยความรัก ความเอาใส่ใจ และอบอวลไปด้วยกลิ่นอายอารยธรรมยุโรป จาร์แดง เดเต้ เจลาโต้ แอนด์ ดีเสิร์ท คาเฟ่ ร้านเบเกอรี่และขนมหวานสไตล์ตะวันตก จึงเป็นผลงานแห่งความภาคภูมิใจของสองเชฟหนุ่มสาวผู้รักเบเกอรี่ เชฟดนย์ จินดาศิลป์ และเชฟเจนจิรา ธนาศิลปกุล
บริเวณรอบร้านนี้สร้างคล้ายกับบ้านดินยุคดั้งเดิม แต่ภายในร้านตกแต่งให้มีความเป็นโมเดิร์น และดูอบอุ่นสบายตา เป็นสถาปัตยกรรมการก่อสร้างที่ได้รับแรงบันดาลใจมาจากนักสถาปนิกชื่อดังชาวสเปน แอนโทนี เกาดี หลังจากชื่นชมความสวยงามรอบร้าน ก็มานั่งจับจองโต๊ะแล้วเลือกชิมเมนูขนมที่ตั้งโชว์เรียงรายบนตู้กระจก เริ่มต้นด้วยเมนูขึ้นชื่อของร้านอย่าง เจลาโต้ ไอศกรีมอิตาเลียนเนื้อเนียนละมุน เต็มเปี่ยมด้วยคุณภาพคับถ้วย  และมีรสชาติให้เลือกหลากหลาย อาทิ รสดาร์คช็อกโกแลต รสเชอเบทรสเสาวรส รสเชอเบท รสไวน์แดง และรสถั่วฮาเซลนัท เสิร์ฟในถ้วยสกู๊ปน้ำหนัก 70 กรัมในราคาเพียง 65 บาทเท่านั้น ต่อด้วยขนมอบกรุบกรอบ ไส้สตรอร์เบอร์รี่รสเปรี้ยวหวานอย่าง สตรอว์เบอร์รี่ครัมเบิลอบ เสิร์ฟพร้อมเจลาโต้รสนมหอมฉ่ำ เป็นอีกหนึ่งเมนูสุดสร้างสรรค์ที่ใช้วิธีจับคู่ระหว่างเมนูของร้อนและเมนูของเย็นได้อย่างมีอรรถรสในการรับประทาน ตบท้ายด้วยความเพลิดเพลินกับรสชาติของมาการองหลากสีหลากรส เหมาะแก่การรับประทานคู่กับชาร้อนๆอย่างยิ่ง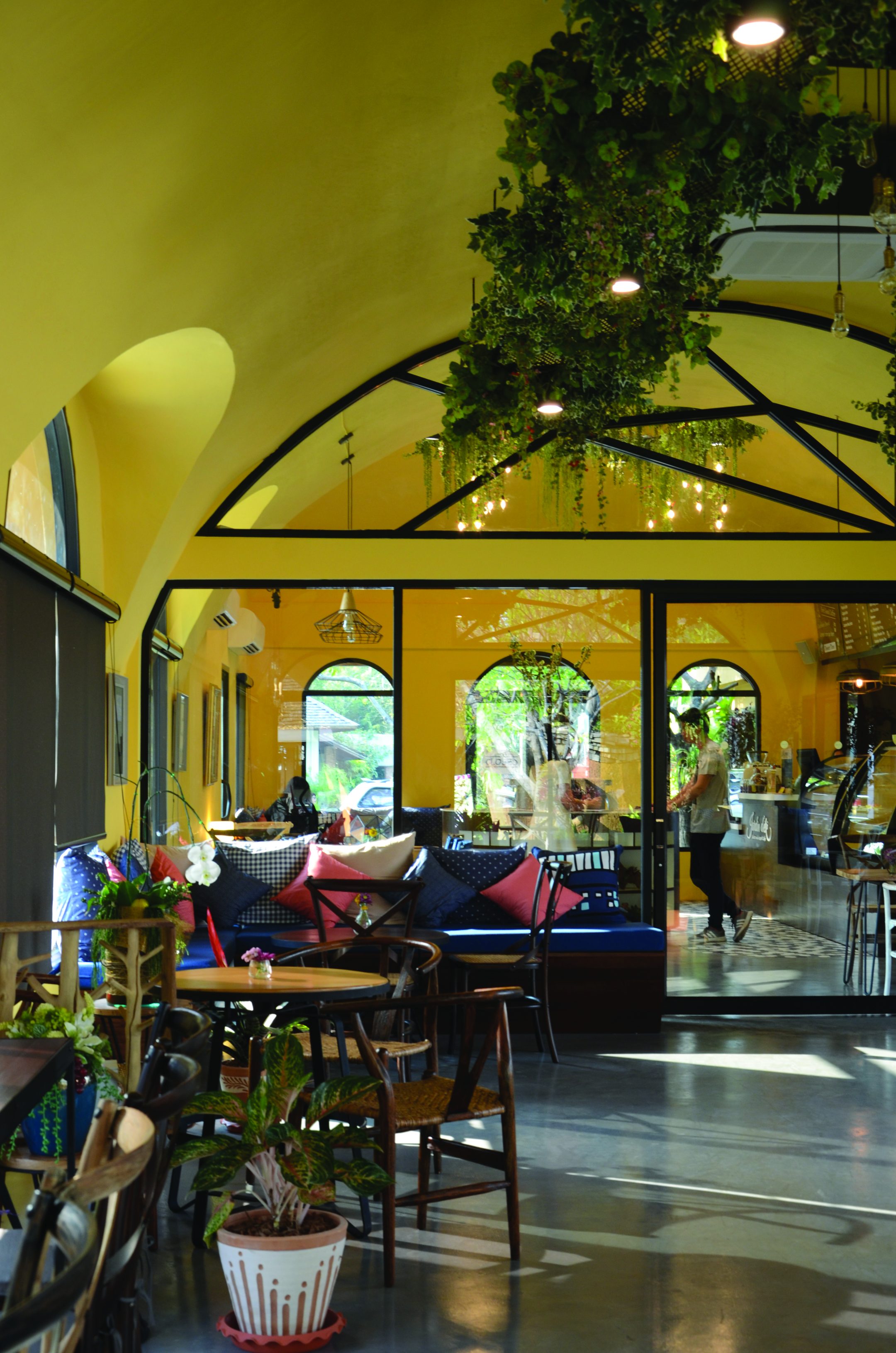 The owners of this European bakery, Chef Don Chindasilpa and Chef Janejira Thanasinlapakul, have created a true destination for those of us who enjoy the sweeter things in life. The distinctive café near the airport, inspired by Spanish architecture, is rapidly becoming the Mecca for gelato lovers in Chiang Mai. Their signature gelato smooth Italian ice-creams come in a wonderful assortment of flavours such as dark chocolate, passion fruit sherbet, sherbet, red wine and hazelnut, all for just 65 baht per 70 gram scoop. Also try their strawberry crumble served with milk gelato, a unique twist to the classic hot and warm of an apple crumble, with custard and ice cream. Wash it all down with a hot cup of tea or coffee, or choose from an assortment of cold drinks.
Jardin d'été Gelato and Dessert Cafe
บริเวณร้านอาหารสวนผัก (ติดกับห้างสรรพสินค้าโรบินสันเชียงใหม่แอร์พอร์ต) ถนนทางไปสนามบิน
เปิดทุกวันตั้งแต่ 10.00 – 20.00 น.
โทร. 095 860 6262
Facebook: jardin.dete.chiangmai
Jardin d'été Gelato and Dessert Cafe
At Suan Paak Restaurant area, Close to Robinson Chiang Mai Airport Plaza
Open daily 10am-8pm
Tel. 095 860 6262
Facebook: jardin.dete.chiangmai