Doi Pha Tang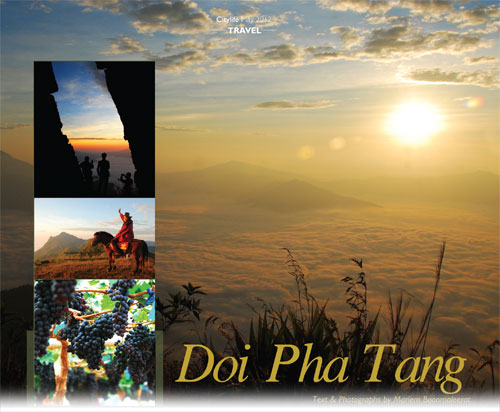 Been there, done that?
Bet you haven't! If you love the stunning viewpoint at Phu Chi Fah, then Doi Pha Tang should be next on your must visit list. And if you haven't, well, you are in for a treat.
This mountain peak rises 1635 metres above sea level and offers a spectacular 360 degree view of the Thai-Laos border with the great Mekong wending its way into the distance. The mountain is cool year round and covered with lush greeneries. On most mornings, a fluffy sea of misty clouds below contrast with the majesty of the mountain peaks around.
Nature's wonders don't stop there. There is the Pha Bong Siam Gate view point which is an opening between two large rocks, offering a rather dramatic view; a Yunnanese_style stone forest of odd shaped stones and rocks; and a viewpoint between two mountains with a charming path connecting the two.
Man has added a few attractions into the mix and you can hire a horse, belonging to local villagers for a little trek, costing around 150 baht per return trip, learn about the ways of life of the eclectic mix of minority groups such as the Chinese, Hmong, Yao, Muser, Akha and Thai Lue as well as sample some delicious locally grown grapes and strawberries.
Pha Tang is surrounded by many other attractions and sits around 67 kilometres south of Chiang Khong. The turnoff to Pha Tang along the main Chiang Khong-Thoeng Road (1020) is at Baan Tha Charoen, about 15 kilometres from Chiang Khong and the sign will invite you to go Baan Pha Lae along the 1155. Drive a further 39 kilometres until you reach Baan Pang Had where you drive a further 13 kilometres off the road towards Doi Pha Tang itself. Another route is to drive from Chiang Rai to Thoen along the 1020 by turning off at Baan Tha Charoen. We didn't say it was easy…but we are saying it is worth it!
[i]Google the area for resorts, or you can even stay at camping grounds in the area. For more information on the Doi Pha Tang Royal Project please call 053 613 308, 081 960 6598.[/i]