Community Services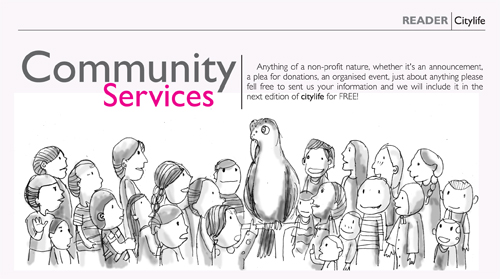 The Mission House is a Christian organisation offering a genuine service in both English and Thai to Chiang Mai. Their focus is on helping foreigners settle into Chiang Mai and offer many wonderful homes to rent.
The Mission House supports and works in partnership with a number of Christian organisations and churches within Chiang Mai & Chiang Rai.
Contact; Janta, The Mission House: [email protected]


NANMEE BOOKS is hosting 'The 6th Wankaew Literary Award 2009'. The contest is separated into two parts: novel and documentary; the novel winner will receive 50,000 baht while the documentary winner will receive 30,000 baht. Both will be published and receive cash for copyright. Send your story to Nanmee Books Co., Ltd 11 Soi Sukhumvit 31 (sawasdee), Sukhumvit Road, Klong Tuey Nue, Wattana, Bangkok 10110 from now through 30th April 2009.
For more information call 02 6623000 ext 5249 or e-mail to [email protected]


Citylife is aware of all the good work being done by our local NGOs, Foundations, Charities and Non-Profit Organisations and is pleased to announce the creation of a special section on our website, http://www.chiangmainews.com/donation/ that will allow the millions of viewers who log on each year the chance to find your web sites and perhaps offer their help or donations. If you would like to be featured on, and linked to, this special page for FREE please send your banner links and any other pertinent information to Arm at [email protected]

Hi! My name is Ginger and I'm a two year old, small sized, adorable female auburn haired dog with piercingly deep eyes. I'm a bit shy when I don't know people so I'm currently being fostered by two wonderful individuals who have shown me so much tenderness and love! Since they'll be leaving Thailand to go back home very soon, I'm currently seeking to find another friendly family! If you'd like to be a foster parent (for me or another dog in need), please contact Care For Dogs at 08 47 52 52 55 or at [email protected] Being a foster parent entails taking a homeless animal into your home and providing them with food, water, exercise, and love. Care For Dogs will take care of all veterinary expenses and will continue to seek a permanent, appropriate home for the dog until one is found. If you're interested, come visit us at www.carefordogs.org.
"Saving one dog won't change the world but surely the world for that one dog."


Sunshine Radio 105.75 MHz would like to invite you to their charity party and Fay Fang concert on the 3rd floor of Central Kad Suan Kaew, March 20th from 10 a.m. – 4 p.m.
Chiang Mai Red Cross needs blood donations for the community supply, especially 'O' type. Please come and sign up for organ donation; you can help save a life.

JJ Market sets the stage for local communities and local educational institutes to show their creativity and talent in a traditional way. Culture Street showcases a market for locals to present their products to travellers, both Thai and foreign, who value local ideas.
Culture Street is organised by JJ Market, held everyday now – April between 4 p.m. – 11 p.m. Contact Sarunyanee Mungwicha from more information 053 231520 ext 108 daily from 10 a.m. – 5 p.m. or visit www.jjchiangmai.com.