Coconut Milk Latte by Cafe de L'Amour
คุณณัฐวี เรียบร้อย เจ้าของร้าน Cafe de L'Amour ร้านกาแฟน่ารักๆ บรรยากาศสบายๆ ย่านไนท์บาซ่า ได้มอบสูตรเครื่องดื่มอันแสนพิเศษ เพื่อเป็นของขวัญในวาระครบรอบ 3 ปี ของนิตยสาร Spoon&Fork เมนูนี้เป็นเครื่องดื่มที่ผสมผสานระหว่างความเป็นไทยและความเป็นสากล คือกะทิและกาแฟเอสเปรสโซ มัดใจลูกค้าชาวต่างชาติบนย่านถนนไนท์บาซาร์ได้เป็นอย่างดี ซึ่งเปรียบได้กับ Spoon&Fork ที่มีเนื้อหาหลากหลายทั้งไทยและเทศในเล่มเดียวกัน
ส่วนผสม
กาแฟเอสเปรสโซ Double Shot
กะทิ + ไซรัปกลิ่นวานิลลา (ตามปริมาณขนาดของแก้ว)
นม (ตามปริมาณขนาดของแก้ว)
มะพร้าวอบแห้ง (สำหรับตกแต่ง)
ขั้นตอนการทำ
1. เตรียมเอสเปรสโซ จำนวน Double Shot ในแก้วกาแฟที่ต้องการเสิร์ฟ
2. สตรีมนมพร้อมกับกะทิและไซรัปกลิ่นวานิลลา จากนั้นนำไปเทลงแก้ว
ที่เตรียมเอสเปรสโซไว้
3. เติมฟองนมบนกาแฟ และตกแต่ด้วยมะพร้าวอบแห้งพร้อมเสิร์ฟ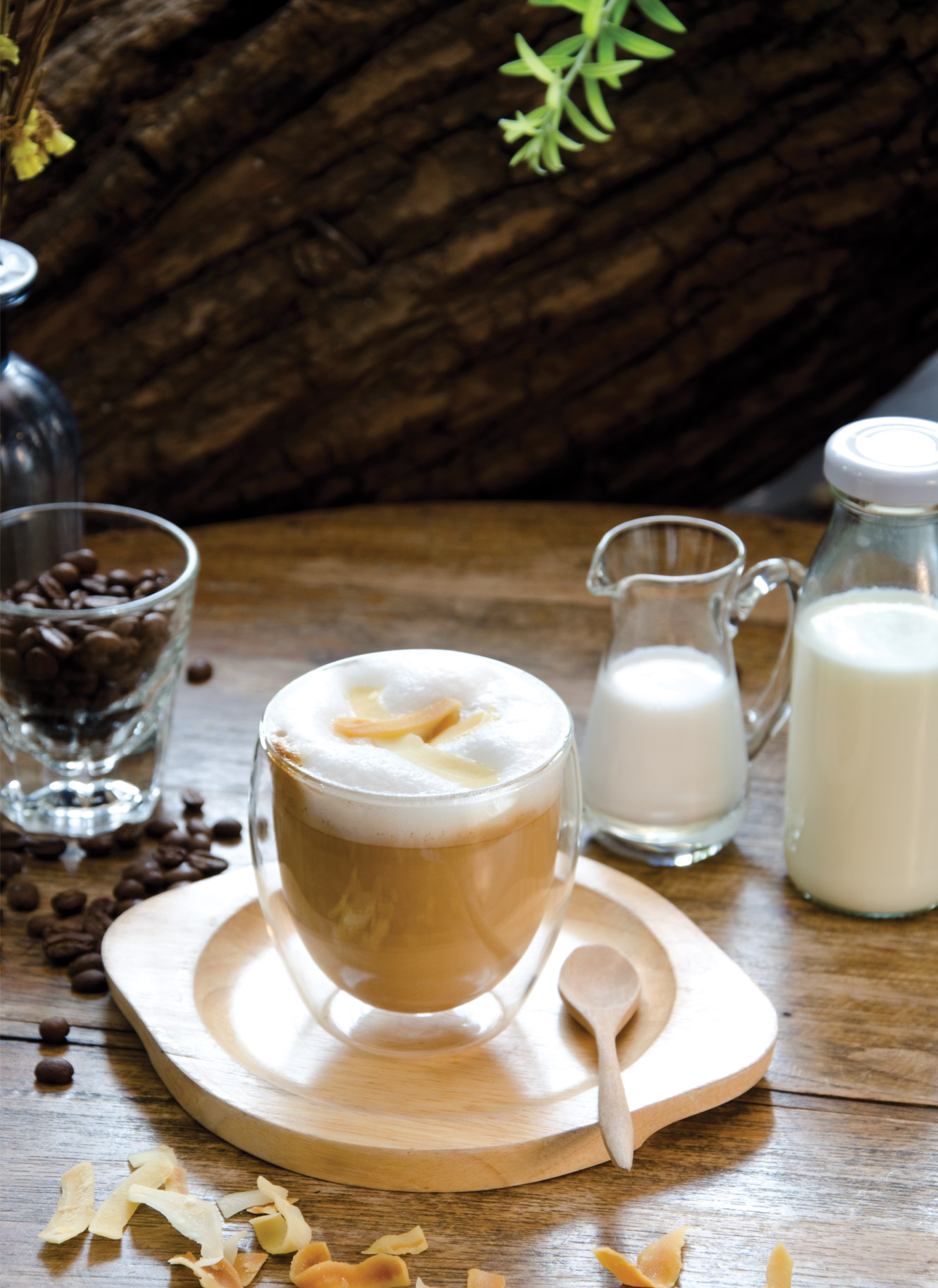 ---
Owner of Café de L'Amour, Natthawee Riabroi, has kindly shared this recipe with Spoon&Fork, one that, like our magazine, has a combination of Thai and international flavours. This drink uses coconut milk along with espresso and is a big hit with tourists in the Night Bazaar area.
Ingredients:
Espresso Double Shot
Coconut milk and vanilla syrup (to taste)
Milk (to taste)
Dried shaved coconuts (decoration)
Directions
1. Place a double shot of espresso into a glass.
2. Pour the coconut milk and vanilla syrup onto the espresso.
3. Pour frothed milk on top and decorate with coconut shavings.
Café de L'Amour
88/3 ถ.ศรีดอนไชย ต.ช้างคลาน (หน้าโรงแรมยางคำวิลเลจ) โทร. 053-819-257 เปิดทุกวัน 8.00 – 21.00 น.
88/3 Sri Don Chai Rd., Chang Klan
(front of Yaang Come Village Hotel) Tel. 053 819 257
Opens daily 8am – 9pm Facebook: lamour.chiangmai