Clients' Spot
Studio Naenna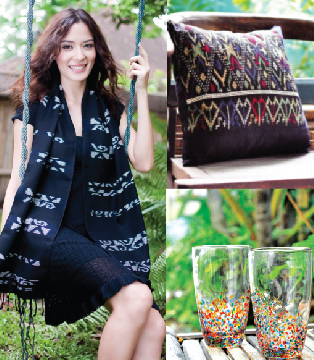 In 1988, Patricia Cheesman, an acclaimed art historian and expert in Lao and Thai textiles, was inspired to revitalise the 2,000-year-old artistic tradition of local weaving and intricate patterning to create one-of-a-kind textiles. She founded Studio Naenna to offer a collection of exquisite, handmade clothing and eco-friendly textiles, including silk and cotton. Today, her daughter Lamorna has taken over her mother's legacy and runs the studio as well as her Nimmanhaemin showroom and shop, Adorn, which houses the majority of the studio's finished products. Here, you can take your time browsing a variety of unique, fair trade, hand-woven clothing, tailor-made items and export products. At the main studio, you can see products being created by hand, using 100 percent natural indigo dyes and an authentic backstrap loom. Lamorna works closely with master weaver Viroy Nanthapoom to create unique textiles for fashion and home d?cor and in turn, supports the Weavers for Environment women's group, which offers training and jobs to young women in impoverished local villages. At Studio Naenna, you can even attend an informative, hands-on workshop, where you can learn firsthand this exceptional, sustainable and enduring art form. The studio will be closed on weekends until the end of September, but will be open on Saturdays throughout the high season, from October to March. Stop by the Nimmanhaemin shop between September 6th and September 25th to receive a 25 percent discount on all products.
Studio Naenna:
Open daily, 8.30 a.m. – 5 p.m.
138/8 Soi Chang Khian, off Huay Kaew Road
053 226 042
Adorn Shop:
Open daily, 10 a.m. – 6 p.m.
22 Soi 1 Nimmanhaemin Road
053 895 136
Le Crystal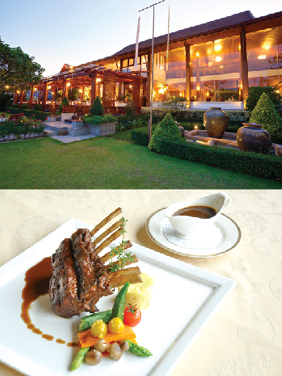 For eight years and running, Le Crystal has been one of Chiang Mai's best-loved and most respected restaurants for fantastic French fare. A Thai family-run business located in a lovely spot on the banks of the Ping, Le Crystal is the perfect spot for a romantic rendezvous or a special occasion dinner. Inside, it's all wood panelled walls, marble floors, cream linen table clothes, leather chairs and gorgeous crystal chandeliers hanging from the ceiling. Outside it's elegant riverfront dining on a covered deck surrounded by lush gardens, fairy lights and a spacious lawn, perfect for hosting events. Every night (except Sundays) there is a three-piece live jazz band, and on the last Saturday of every month the restaurant hosts its famous "world buffets," where diners enjoy all-you-can-eat oysters, foie gras, lamb, and much more for 1,200 baht, or 1,800 baht with free flow wine. While the folks at Le Crystal have made a name for themselves for their commitment to traditional French fare, they are currently in the midst of a metamorphosis of sorts, challenging their award-winning chefs to put their heads together and revamp the menu. Co-managing partner Ajava-Riddhi Diskul has been splitting his staff up into teams and running Iron Chef-like competitions, presenting the chefs with specific ingredients or even wine pairings from which to create brand new dishes. "This has resulted in some very successful dishes," he says. He is not wrong. The outcome is an array of new dishes with international influences and flavours – from Mexican to Italian. We swooned over the braised rack of lamb with vegetables, mashed potato and lamb au jus, and the wrapped halibut fillet with aubergine and prawn, topped with tomato coulis and parmesan, was divine. The new menu is still coming together, but is expected to be completed by October.
Open daily, 6 – 10.30 p.m.
74/2 Patan Road
www.lecrystalrestaurant.com
053 872 890-1