Clients' Spot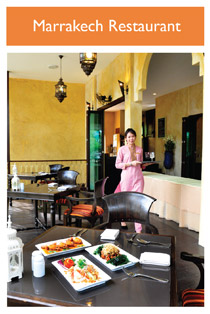 The opulent Moroccan-styled Sheik Istana Hotel is certainly one of a kind here in Chiang Mai and more special for being on the banks of the Ping River. Its sumptuous Marrakesh Restaurant offers authentic and rare selections from Moroccan, the Mediterranean, Thailand as well as a selection of international cuisine. The Marrakech Restaurant is located next to the swimming pool by the side of the river and is framed by the hotel's grand Islamic style architecture. There is a variety of seating options including the open-air balcony (all seats are under the roof, so don't worry about the rain!) or inside the restaurant. The most recommended Moroccan dish is the succulent beef tajine, a slow cooked stew braised at a low temperature with aromatic vegetables and tender piece of beef in a rich sauce. Thai dishes include ancient wonton salad with pork, spicy stir fried cat fish and choo chee (a fragrant red curry sauce) with prawn. Marrakech Restaurant also provides a decent vegetarian menu. Spice up your life, try something new, enjoy another of Chiang Mai's wonderful dining venues.
Sheik Istana HotelOpen daily 11 a.m. – 10 p.m.
053 273 142
www.sheikistanahotel.com
Cosily by Apirassak has been a well known wedding business in Bangkok for ten years and now they have opened shop in Chiang Mai providing selections of wedding outfits and made-to-order designs. Cosily designs are all about embroidery and offers the whole gamut of wedding apparel from suits, traditional Thai dresses, bridal gowns and even nighties for the, ahem, after party. Cosily's designers have a decade of experience in working closely with the wedding party so that the costumes are exactly what the bride and groom wish. Cosily's portfolio includes having designed famous dresses for the Royal Ploughing Ceremony as well as having arranged a very high profile wedding on an Air Asia plane. To know more about Cosily, type 'Wedsnazzy' into YouTube to see the wedding channel made by Cosily.
CosilyOpen daily 9 a.m. – 8 p.m.
Located on Samlan Road, opposite to Saun Prung Gate
053 279 152 and 081 735 0827
www.cosilydress.com