City Vibes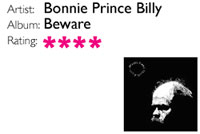 For those not yet familiar with Bonnie 'Prince' Billy (Will Oldham) be prepared for a treat. Coming hot on the heels of 2008's 'Lie Down in the Light', 'Beware' captures the same mood with beautifully written and arranged tracks that are folk hearted and uplifting. Since his first album in 1993, Oldham has released fourteen studio albums, each surpassing the other in style and content. 'Beware' is Oldham at his best, less-reflective than 2008 and opening up his acoustic essence to guest vocalists, backing choirs and rampant steel guitars. 'Beware' is inspirational music from a legendary folk artist.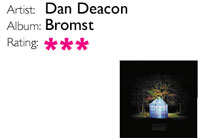 Bloated weirdness gone AWOL, this miasmic, musical manifesto sounds like the twisted exegesis of a bonkers band and a vocalist with a throat full of sandpaper. Incorporating thumping, belly-full beats, a riot of tom-toms and screeching harmonies, there is simply no respite on this album for friend or foe. From the out-set, Dan Deacon explodes each track with madness and mayhem, inspired by both grandiose rock anthems and glow-stick hardcore. Highlights include 'Get Older' a pumping sound-mash of strings and chords and 'Woof Woof' a hard-edged Indie/Dance toe-tapper. 'Bromst' is a hard listen, but brilliantly arranged and highly original, not one for the dogmatic.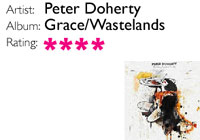 Troubled junkie Pete Doherty has been absent from the UK red-tops recently, which usually relish in his self-destructive antics and actually place bets as to when he'll kick the bucket. Doherty has been ensconced in his recording studio mastering this solo endeavour which has arrived with little pomp and circumstance and much castigation by the media. What a pleasant surprise then to hear Doherty at his very best on this acoustic release. Twelve stunning tracks exalt this thoughtful release on which Doherty pours out his heart on love, life and sheepskin jackets. Enjoy 'Last of the English Roses' and 'Broken Love Song' for a taste of an artist at the peak of his talents.