City Sport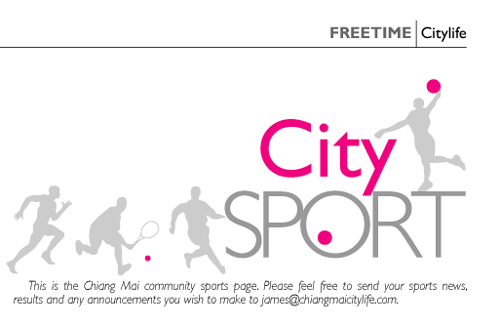 • GOLF
Travelling south to Rayong's Green Valley Golf Club, three players from The Prem Golf Academy's Team Elite made their debut appearance at the highly-acclaimed national junior golf competition known as 'The Mercedes Trophy'. Thirteen year old Chayutpol (Smart) Kittirattanapaiboon, was the surprise winner of the Class B2 division to beat over forty other players from around Thailand in his age group.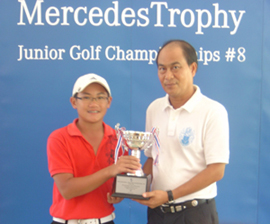 [i]Chayutpol (Smart) Kittirattanapaiboon
Class B2 Division Winner[/i]
Returning competitors to this tournament took notice of Smart's steady play throughout the two-day event where he held the lead on both days. Smart's short game skills was what proved to be the factor that set him apart from the other junior golfers during this event where he completed an impressive 80-78 (158) final score winning the Class B2 division trophy by just one stroke.
• ROYAL LEAGUE LITTLE MAN COMPETITION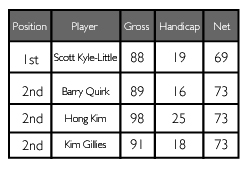 Scott Kyle-Little won the October 'Little Man' to break through for his first win in a Royal League event and managed to break 90 for the first time in ten attempts at Highlands.
For more info on the Royal League contact www.theroyalleague.com
• TENNIS
The Vasupongchai Sisters, previously featured in Citylife, received an invitation to the famous Bollettieri tennis academy in the US to train and play the Orange Bowl. The Nick Bollettieri Tennis Academy (NBTA) has trained tennis greats Maria Sharapova, the Williams sisters, Agassi, Becker, Courier, Hingis, Rios, and Seles, and now the Vasupongchai sisters have been invited by Steve Shula, Director of Marketing and Sales for NBTA, for a visit in November/December of this year. Coach Randy is presently seeking sponsors for their flights to the US so they can make this important trip, which includes sponsored training at NBTA and the possibility of competing in one of the most challenging and well known junior events in the world, The Orange Bowl. The Vasupongchai sisters are both on full scholarships at the Prem school and tennis academy. They are two of the upcoming star junior players in Asia with incredible potential to pursue tennis at the elite levels.
• SOFTBALL
Softball starts every Sunday afternoon at 1.30 p.m. on the football pitch at Payap University, and anyone is welcome to join in.
To get on the softball email list please contact [email protected]