City Sport

This is the Chiang Mai community sports page. Please feel free to send your sports news, results and any announcements you wish to make to [email protected]


There has been only one game of late for the Farangutans and they played each other. It seems there is a distinct lack of teams wanting to play the foreigners, if anyone reads this report and they know of a team who might play the Farangutans please get in touch with the team.
On a sad note, the Farangutans lost one of their players in November. James Morris, just 18 years old, died after he lost control of his motorbike close to Nakron Payap School where he was a senior. James regularly played with the Farangutans, scoring some great goals, notably in the annual SE Asian tournament in Bangkok. He will be missed.
[email protected]


Chiang Mai Softball League will be playing softball on Sunday afternoons at 1 p.m. on the Payap University softball field. Players of all ages and abilities welcome. For more information please contact Austin at 081 033 8744 or [email protected]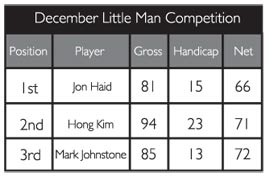 Jon Haid successfully defended the 'Little Man' he won in November with a stellar round of 81 off the stick, net of 66 for a 5 shot victory margin. You realise the extent of the performance when the low gross winner in A flight, Jeff Crosthwaite, who shot a fine round of 76 would still not have unseated Jon on a net basis. In fact, apart from Jeff, Jon had a better gross score than the other seven players in the A flight.
Out in 39 with four pars and a birdie on six meant Jon made the turn at five under his handicap. Holding it together on the homeward leg, not always easy to do in a stroke round for a middle handicap player, Jon managed one under his handicap with a double on the difficult 16th, his only 'bad' hole.
For more information contact www.theroyalleague.com.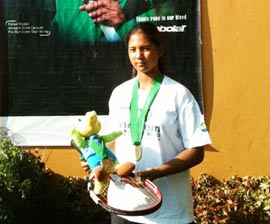 The Prem Tennis Academy and Team Elite player, Kana Vasupongchai, recently represented Northern Thailand as the #1 player and captain of the Sports Authority of Thailand's sectional junior tennis team in their annual sports competition held this year in Pichit. Every province of Thailand selects teams to compete in this Olympic style competition. Kana won both the singles and doubles competitions to help the team win the overall team event and will now go to Bangkok to compete in the final round.
Kana has also won the end of the year Toyota Masters event held in Bangkok recently. As a 14 year old she competed in the 18 under division winning a total of 5 matches on her way to winning the championships and a two week trip to a tennis academy in Spain.