City Guide: Chiang Mai Gate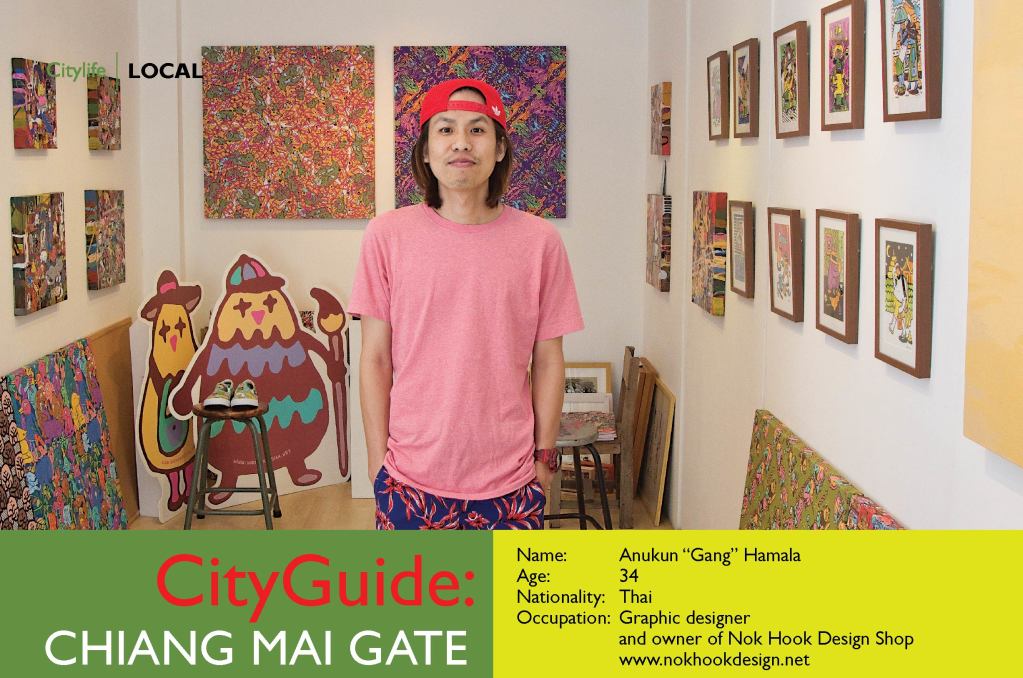 What are the defining characteristics of your neighbourhood?
My neighborhood has loads of small boutique hotels and temples, and it's close to my workplace, Nok Hook Design Shop, where I design, do graphic work and run a handmade shop to sell my art.
Why did you choose this neighbourhood?
I opened my studio here over seven years ago, so I have spent most of my adult life here. It's convenient for transportation and it's great for finding food, coffee or even a bit of shopping.
What do you like least about it?
In the evenings I don't like all the traffic jams!
Who lives here?
Most people who live here are local Thai people, yet some tourists like to come look around the temples and stay in boutique hotels.
Best everyday restaurant:
My favourite everyday restaurant is Chan Steamed Chicken near Wat Panwaen, on Bamrungburi Soi 3. It has clean, tasty food and is not expensive. I often cycle there as it's not far from my home.
Best special occasion restaurant:
Mum Aroi Chabu Hotpot, opposite to Suan Prung Gate, is not far from my workplace. The restaurant provides various meats and sauces to choose from and it also serves two fabulous flavours of soup.
Best cheap eat:
I enjoy shopping in Chiang Mai Gate Market (Pratu Chiang Mai Market ), where you can find local food such as naem, grilled offal, fresh chilli pastes and sticky rice. I can get really full on about 30 baht! The market is open all day from the morning to around 5pm in the afternoon.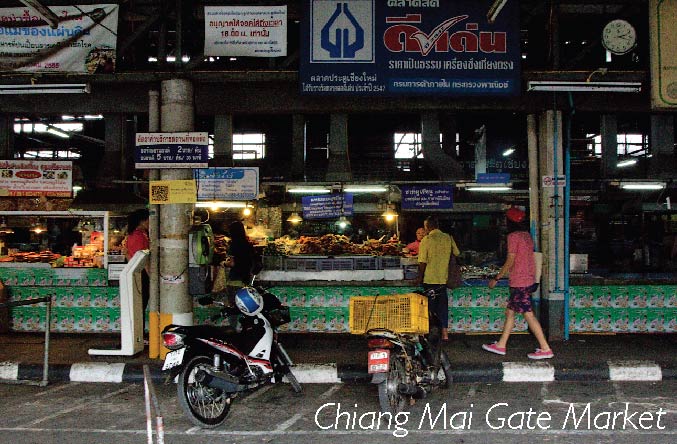 Best drinks:
Ease Cafe on Samlan Road has some great coffee at a great price and also serves Thai food such as pad thai with shrimp dumplings and noodle with minced pork and fried egg. Surrounded by shady trees, it is a perfect place to sketch pictures and have a chat with my clients.
Best daytime activity:
In the evenings, I love to take a walk and do some exercise in Wat Chedi Luang as it's not far from my place. I'm not really serious about the exercise though, just running around the pagoda makes me exhausted!
Best place to shop:
One of the best places to shop has to be the walking street on Ratchadamneon Road. There are loads of lovely shops and stalls selling all kinds of interesting products.
Best secret:
Baan Phor Liang Meun is a beautiful, hidden terra cotta arts garden located right at the end of Phrapokklao Soi 2 that has loads of ancient earthenwares and sculptures which provide me with lots of inspiration. It also has a coffee shop which is a great place to sit and work on my latest art ideas.