Calling Team Obama!

"It is imperative to vote," said Gary Suwannarat, Vice Chair for Democrats Abroad, Thailand as well as a member of the Democrat National Committee through to 2016, as she nursed a cup of tea at Citylife's office. Suwannarat had just returned to Chiang Mai, where she has lived for forty years, from attending the Democratic National Convention at Charlotte, North Carolina.
"It was electrifying," she says, of the convention. "Though I was up in the rafters with other Democrats Abroad this year, not being a part of the official delegation, we had a great time discussing what was going on and meeting fascinating people. And Bill Clinton's speech – wow! Our main purpose is to make Americans around the world know that it is not too late to register to vote, and it is not at all difficult to do so. If they haven't registered before they had better do it pretty damn quick," she added."In 2008 we had specific concerns as a group: we wanted to streamline procedures for spouses and dependents of US citizens abroad to be able to gain citizenship; we were working on the Reuniting American Families Act, which helps gay and lesbian partners move to the US and we wanted to find a rational solution for tax. We are unique in developed countries in taxing citizens on global income; other countries tax based on residency. Often people end up getting double taxed, so these were all key issues in 2008. This year it is more aspirational; we are rallying in support of the Obama administration."Americans living abroad are estimated at around 6 million, a significant number of potential voters, which would make the voting bloc about 15th or 16th in size when compared to state populations. In fact, Democrats abroad have been the swing votes in some state-level elections.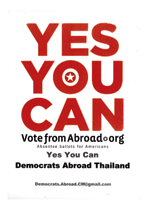 "We are not the only place where Americans abroad can register to vote, there is the Federal Voter Assistance Programme and others. In fact around 5% of those who register with us are Republicans and the total of around 15-20% vote for parties other than democrats," explains Suwannarat, who says that the Democrats Abroad registered over 100,000 votes in 2008. This year's numbers are unknown. There is no Republican group that Citylife knows of, in Chiang Mai. When asked about the demographics of the voters in Thailand, Suwannarat personally reckons the majority are Democrats. "There are the veterans, the big businesses in Bangkok, some retirees as well as some members of the embassy and consulate who are Republicans, but I think that overwhelmingly, Americans here tend to be Democrats.""We are going up against a party which is probably going to be spending over a billion dollars on their campaign," she continued. "They are also trying to suppress voter turnout which could affect up to 6-8 million, mainly democrat, voters who do not have multiple forms of ID. They are taking every angle they can. Our party has vowed to deal with 90% of these issues by election day, but we are facing huge challenges. We are being branded a socialist party which is against self-reliance. In fact the Republicans are the ones voting against their best self-interest, they are being swept up in this spin that we are fascists, Marxists, socialists, communists, or whatever. But personally I think that the republicans have done a great job at whipping up interest in our side of the aisle: the law to restrict women's reproductive health choices, their opposition to tax reform, their stance on immigration, and such. I can't say that they have the greatest candidate this year either, he has done much to energise the Democratic base."Suwannarat urges all Americans to register to vote. She will also be holding Election-Watch events leading up to the election, so Americans and anyone else interested can come and watch the presidential and vice presidential debates together, the time difference will mean that these events will be held in the mornings of the 4th, 12th, 17th and 23rd of October. And on November the 7th, there will be a Vote-Count Watch.  "Democrats Abroad will be registering
voters at Rimping Mee Chok Plaza every Saturday from
10 a.m. – 2.30 p.m.The venue for the Election-Watch events are as yet undertermined, so please get in touch with Gary Suwannarat at [email protected],
or visit www.city-now.com
closer to the date and
find details in our calendar.