Book Review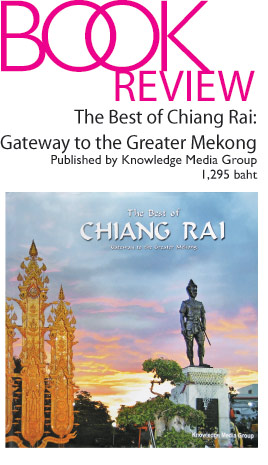 Though Chiang Rai city really is nothing to write home about, Chiang Rai Province is an unsung region with a bountiful number of attractions for visitors: historical temples, rich ethnic diversity, lush national parks, quirky artists, five star hotels, and its fascinating proximity to neighbouring Burma, Laos and China.
Chiang Rai's very first coffee-table book has recently been published, featuring photography and texts from some of Citylife's contributors such as Alberto Cosi and David Hardcastle, as well as many names, well regarded in the tourism industry such as Reinhard Hohler, and publisher and editor-in-chief Jaffee Yee Yeow-Fei. This glossy book features photographs of some of the more well known places in Chiang Rai such as the idyllic Pattaya Noi (Chiang Rai Beach), images from the annual elephant polo, panoramas of the Mekong river, the famous white temple and artist Thawan Duchanee's eccentric home. Other more interesting and lesser known images feature the park-like ambiance in the evening on the tarmac of the old airport, the novices who seek alms on the back of a pony each day and images of some interesting homes in the province.
While not groundbreaking, and mainly featuring familiar images to those of us who know Chiang Rai well, it is nonetheless a nice change to see some attention and the spotlight shining on Chiang Rai, rather than Chiang Mai for a change. A nice souvenir to take home.