A Fishy Feast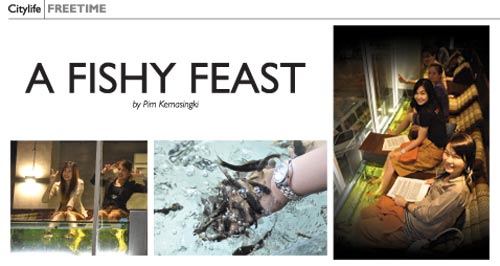 No, this is not a guide to Chiang Mai's greatest seafood restaurants; in fact, in a karmaesque manner the fish are the ones doing the feasting…on us.
We have seen some fads here in Chiang Mai, from milk bars to spas. Well the latest fad is – let's say it together, we all know what it is – fish spas!
In October, Fish Actually opened shop at @Tawan Trendy Mall immediately becoming a recession-defying success, with clients queuing up and booking days, even weeks in advance for a chance to get their feet nibbled by a school of hungry garra rufa fish (a.k.a doctor fish). Originally from Turkey, Syria, Iraq and Iran, these little nibblers were first discovered by the outside (i.e. commercial) world in 2006, when some enterprising Japanese person exported the fish from Turkey and opened the world's first fish spa in Hakone. Since then fish spas have opened up world wide, mainly in Asia, promising punters a ticklish experience of dead-skin removal and foot rejuvenation, resulting in 'fairer and smoother skin' as per fish Actually's advertisement. The fish also exude a mild enzyme which prevents the fast development of cells on the skin as well as emitting tiny electrical currents which improve circulation, revitalise the skin and help with certain skin diseases such as eczema.
Fish Actually's consortium of owners cunningly anticipated the popularity of fish spas, and before opening put in place a franchise plan which now has been implemented in six locations throughout Chiang Mai. In the past two months, however, ten other fish spa businesses have popped up, a testament to the ingenuity and speed of Chiang Mai's copy cat industry!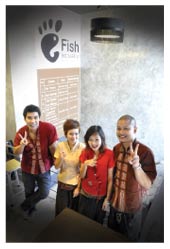 "We are not worried about competition," said Kampanat Teerananont, one of the young owners of Fish Actually. "We opened first, we run a successful franchise which was carefully thought out, we set the market price, we have locked down prime locations, and most importantly we are fastidious about hygiene, something many other fish spas have failed to implement. Some spas are more like fish ponds, while we have a good water filtering system, we use UV light and other measures. Our water is tested once a week by a lab, and is actually cleaner than drinking water!"
Each Fish Actually is unique, some offering herbal beverages, some beer, others neck massages, all while your feet are immersed in a tank of water with thousands of fish which live, feed and breed off our dead skin.
The entire experience is fascinating. There is a very mild tickling sensation, but on the most part you don't feel much at all, it is just rather mesmerising sitting there watching a cluster of tiny fish munching away at your feet.
Though the double pricing will have our expat readers up in arms, the owners assure us that resident expats and Thais will receive the same price of 200 baht each (though we are not sure how you prove that you are an expat) for a half hour's treatment while tourists pay 300 baht (the owners say that a decent chunk of that goes towards guide and tuk tuk commission), and students 150 baht. There is now a central call centre, 086 431 7595 where you can call to find availability at the Fish Actually closest to you, order group bookings and basically handle all logistics and field any questions.
A fun and entertaining experience, check it out.
Branches:
@Tawan Trendy Mall
Tall Teak Plaza (second floor, Nimmanhaemin Road)
Kalare Night Bazaar
Siripanich Building (Huay Kaew Road, opposite Darling Wine Pub)
The Room Project (behind Carrefour)
Pai, Mae Hong Son
www.fishactually.com