Citylife Article Archive:
City7: Best Pizza in Chiang Mai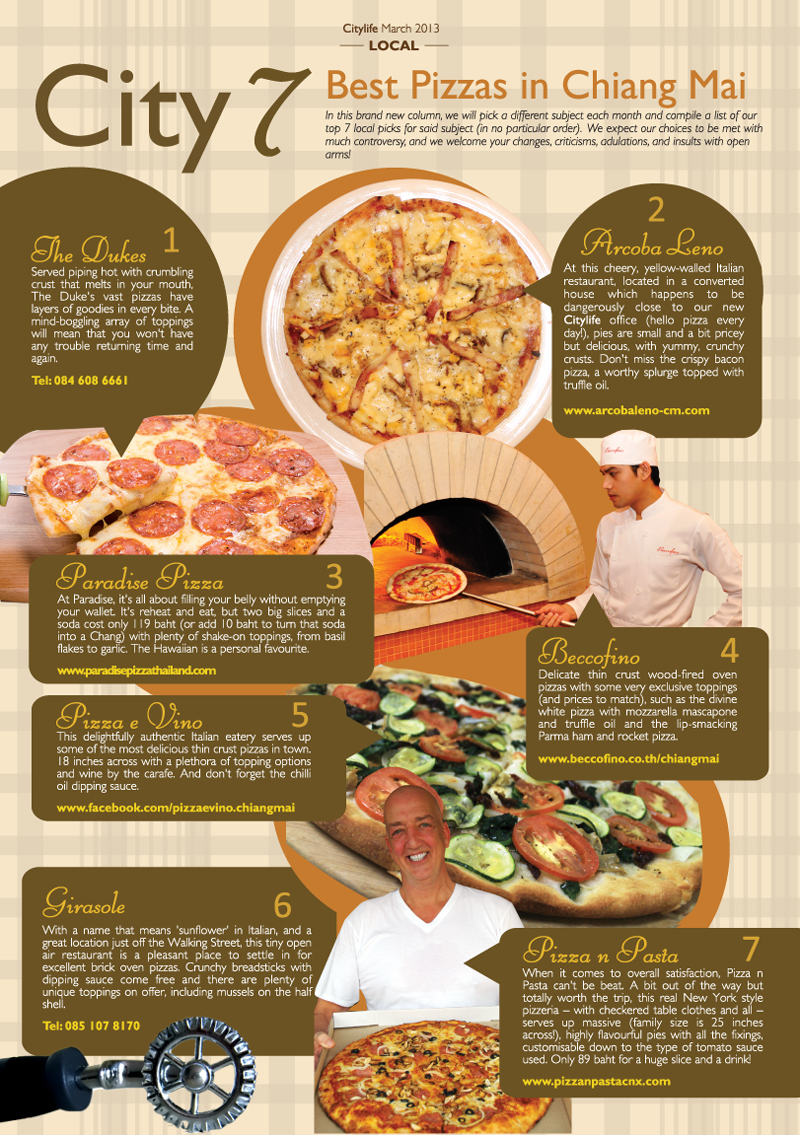 City 7: Best Pizzas in Chiang Mai
In this brand new column, we will pick a different subject each month and compile a list of our top 7 local picks for said subject (in no particular order). We expect our choices to be met with much controversy, and we welcome your changes, criticisms, adulations, and insults with open arms!
1. The Dukes
Served piping hot with crumbling crust that melts in your mouth, The Duke's vast pizzas have layers of goodies in every bite. A mind-boggling array of toppings will mean that you won't have any trouble returning time and again.
Tel: 084 608 6661
2. Arcoba Leno
At this cheery, yellow-walled Italian restaurant, located in a converted house which happens to be dangerously close to our new Citylife office (hello pizza every day!), pies are small and a bit pricey but delicious, with yummy, crunchy crusts. Don't miss the crispy bacon pizza, a worthy splurge topped with truffle oil.
3. Paradise Pizza
At Paradise, it's all about filling your belly without emptying your wallet. It's reheat and eat, but two big slices and a soda cost only 119 baht (or add 10 baht to turn that soda into a Chang) with plenty of shake-on toppings, from basil flakes to garlic. The Hawaiian is a personal favourite.
4. Beccofino
Delicate thin crust wood-fired oven pizzas with some very exclusive toppings (and prices to match), such as the divine white pizza with mozzarella mascapone and truffle oil and the lip-smacking Parma ham and rocket pizza.
5. Pizza e Vino
This delightfully authentic Italian eatery serves up some of the most delicious thin crust pizzas in town. 18 inches across with a plethora of topping options and wine by the carafe. And don't forget the chilli oil dipping sauce.
www.facebook.com/pizzaevino.chiangmai
6. Girasole
With a name that means 'sunflower' in Italian, and a great location just off the Walking Street, this tiny open air restaurant is a pleasant place to settle in for excellent brick oven pizzas. Crunchy breadsticks with dipping sauce come free and there are plenty of unique toppings on offer, including mussels on the half shell.
Tel: 085 107 8170
7. Pizza n Pasta
When it comes to overall satisfaction, Pizza n Pasta can't be beat. A bit out of the way but totally worth the trip, this real New York style pizzeria – with checkered table clothes and all – serves up massive (family size is 25 inches across!), highly flavourful pies with all the fixings, customisable down to the type of tomato sauce used. Only 89 baht for a huge slice and a drink!